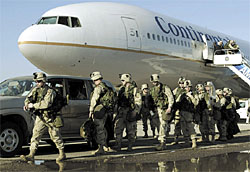 As the countdown for a US war against Iraq starts, Yemen slams US accusationsYemen-US dispute [Archives:2003/626/Front Page]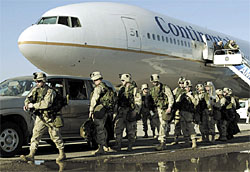 Reuters & Yemen Times Staff
Sanaa – Amid high anxiety in the region including Yemen concerning the possible US war against Iraq, new tensions have started to emerge between Sanaa and Washington concerning allegations of Yemenis on terrorism.
Yemen had slammed on Wednesday U.S. charges that two Yemenis held in Germany, including a prominent Islamic cleric, supported al Qaeda and Hamas, and demanded that they be returned home.
The two men were charged with providing millions of dollars, weapons and recruits to al- Qaeda and the militant Palestinian group Hamas at a U.S. court on Tuesday, about two months after their arrest in Germany.
"He is innocent. It is illogical that a Yemeni with $20 million would hand it to Osama bin Laden," a Yemeni official told Reuters on the sidelines of a summit of the Organization of the Islamic Conference in the Qatari capital Doha. He was referring to Sheikh Mohammed Ali Hasan al-Moayad who was arrested along with his aide, Mohammed Mohsen Yahya Zayed, in Frankfurt on a U.S. request on January 10. "We reaffirm our call to hand him to Yemeni authorities. If the United States has any concrete evidence, it should present it to the Yemeni authorities," the official said.
On the other hand, Al-Sahwa.net reported last week that Anis Al-Duyais, who flew to Germany to meet Al-Moayad, reported horrifying stories about his jail conditions.
Anis said that Al-Muayed suffered tremendously and when he saw him he fell in tears. According to the report, Al-Muayed told Anis, \"I have called the cell I am living in as the 'cell of prohibition' as I am prohibited of almost everything