16 KILLED IN MASSIVE EXPLOSION IN AL-BAIDHA [Archives:2001/21/Front Page]
At least 16 people were killed and 16 others injured -many with seriously- when an explosion took place in dynamite depot belonging to Omar Salim Al-Sabri, and a nearby lorry in Al-Baidhah City 270 kms southeast of Sanaa around 2:30 pm on Saturday. 
An official press release indicated that the explosion occurred in a department store that belonged to Al-Sabri, whom the report accused of "trading with illegal dynamite explosives to use them for making roads in hilly regions and drilling water wells." 
Even though the official report did not mention the lorry that was near by, residents in the area stated that the lorry was actually carrying flour sacks when the explosion took place. Later on it was concluded that there were dynamite sacks beneath the flour sacks, reflecting a possible intention to smuggle dynamites into the city in this manner.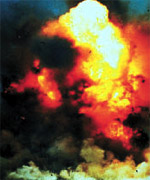 The incident, which occurred in Al-Aqil market on Al-Mustashfa Al-Qadim street, rocked the whole city and caused total destruction of the single-floor building where the stores were located. Even though there are no residential complexes in the area, the explosion's timing caused severe damage to lives and property. 
"We heard the explosion at around 2:30 pm and rushed to the area where it occurred immediately. What we found was tragic. Several dead bodies were pulled from beneath the rubble and residents of the area helped rescue the injured by taking them to the Al-Thawra and Al-Hayat hospitals in the city," one resident said. 
Security forces, officials, and media people rushed to the city upon the hearing of the news of the explosion. Official sources said that the number of injured and killed may increase as rescue attempts were still under way by the time of going to the press. 
It is expected that this explosion would once again point to the issue of the illegal trade of weapons in different governorates in the republic, especially that the government's intention to disarm illegally weapon-carrying citizens in major cities was announced recently. 
Statistics say that the Republic of Yemen has around 60 million pieces of weapons, including bombs, tanks, and different explosive material. Such weapons can easily be bought in many markets in the country.
——
[archive-e:21-v:2001-y:2001-d:2001-05-21-p:./2001/iss21/front.htm]