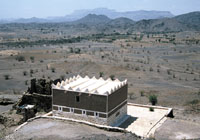 2004 Aga Khan AwardsArchitecture recognized [Archives:2004/796/Last Page]
On 28 November 2004, at a ceremony to be held in India at the historical Agra Fort, His Highness the Aga Khan will announce the seven recipients of the 2004 Aga Khan Award for Architecture. 2004 marks the completion of the ninth cycle of the programme, which has a triennial prize fund of US$ 500,000, the world's largest architectural award.
During the current cycle of the Award, 378 projects were presented for consideration, and twenty-three were reviewed on site by outside experts. An independent Master Jury selected seven Award recipients that were notable for having attained the highest international standards of architectural excellence, while reflecting the values of the primarily Muslim societies the projects are intended to serve.
The seven projects selected by the 2004 Award Master Jury are:
– Bibliotheca Alexandrina, Alexandria, Egypt
– Primary School, Gando, Burkina Faso
– Sandbag Shelter Prototypes, various locations
– Restoration of Al-Abbas Mosque, Asnaf, Yemen
– Old City of Jerusalem Revitalisation Programme, Jerusalem
– B2 House, Ayvacyk, Turkey
– Petronas Towers, Kuala Lumpur, Malaysia
The Restoration of Al-Abbas Mosque in Yemen represents attainment of the highest standards of restoration and conservation while, at the same time, investigating the nature and contemporary importance of a sacred site.
Reinforcing the architectural excellence of the seven winning projects is the written statement of the Master Jury, which reveals the comprehensive approach adopted to discover, understand and explain the challenges of architecture in the Muslim world as it confronts modernity in all its diversity. The Jury identified four areas of social meaning to illustrate the winning projects: how the complexity of history and of historical memory can be expressed in architecture; how private initiatives are integrated into the emerging public sphere; how to express individuality within complex social settings and in the context of the plurality of Muslim traditions; and how power and authority in the global domains of technology, culture and economics might be addressed through architecture. Throughout their two week-long meetings at the Award headquarters in Geneva, the Jury gave foremost importance to projects that raise the standards of excellence.
The Aga Khan Award for Architecture
The Aga Khan Award for Architecture was established by the Aga Khan in 1977 to identify and encourage building concepts that successfully address the needs and aspirations of Islamic societies. The Award recognizes examples of architectural excellence throughout the Islamic world in the fields of contemporary design, social housing, community improvement and development, restoration, reuse and area conservation, as well as landscape design and improvement of the environment.
——
[archive-e:796-v:13-y:2004-d:2004-12-06-p:lastpage]