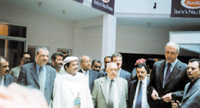 75 of Italy-Yemen Relations Celebrated [Archives:2001/23/Last Page]
Yemeni-Italian relations are characterized by being very distinguished and deep-rooted. Spheres of cooperation between the two countries are diversified and take multi-lateral aspects, which offer the best example of relations between two friendly countries. Recently there have been some activities representing phenomena of the relations. On the occasion of the Italian national day, the Italian embassy in Yemen on Saturday gave a reception party at the Italian embassy building in Sana'a attended by a large number of members of diplomatic mission accredited to Yemen and a host of media men and officials. Celebrating the 75th anniversary of signing the first Yemeni-Italian cooperation and friendship agreement, a new headquarters of the Yemeni-Italian friendship society was also opened. 
On the other hand, chairman of the board of directors of chambers of commerce and industry in Sana'a Abdul Wahab Abu Lahum has lauded the concrete relations between Yemen and the friendly Republic of Italy especially in trade and industrial areas. On the sidelines of a meeting held in Sana'a Saturday with a delegation of the Italian Chamber of Commerce and Industry (PALWA), attended by the Italian ambassador to Yemen, Mr. Abu Lahum said Yemen welcomed Italian investments according to the rights guaranteed in the Law of Investment for local, Arab and foreign investors and facilities granted to them in this respect. 
On another level, the Italian exhibition at the Appollo center that was inaugurated last week proved to be a tremendous success. The exhibition included several Italian companies in various fields and sectors. 
——
[archive-e:23-v:2001-y:2001-d:2001-06-04-p:./2001/iss23/lastpage.htm]