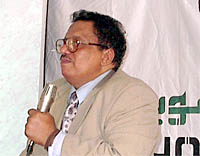 A lecture by Dr. Al-Sharafi's held in Sana'a on:"HOPe is the only way to peace [Archives:2003/648/Culture]
A lecture on "Hope is the only way to peace" was given by Dr. Mohamed Yahya Al-Sharafi last Thursday at Yemen Times premises.
In his lecture, Dr. Al-Sharafi explained that Hope is basically "The state of highest integrity of psycho-socio-biochemical functions, self- unity, reseating in internal tranquility, satisfaction, security and peace stable enough to maintain and transmit peaceful feelings, love and constructive behavior to the external environment- both physically and socially."
He revealed that a human being with Hope is a tolerant, understanding, peaceful, and considerate person contributing positively to the society and freedom of man. He emphasized that Islam is actually built on principles based on Hope, which does not at all contradict with Islamic values.
"We need to realize that those so-called Islamic scholars who accuse some Muslims of being infidels are lacking the core principles of Islam, which conforms to the basis of Hope." he said.
The lecture was attended by tens of interested individuals including UK Ambassador Mrs. Frances Guy, Palestinian Ambassador Mr. Yahya Rabah, along with several diplomats from various embassies and a number of other prominent intellectuals.
——
[archive-e:648-v:13-y:2003-d:2003-07-07-p:culture]