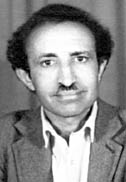 Abdulaziz Shayif:  "Without the Sanaa and Taiz radio services, I think the revolution would not have succeeded." [Archives:1998/43/Interview]
The role of radio in our world today cannot be over-estimated. But this role was especially so in Yemen – a country troubled by a difficult terrain making contact and travel among the different parts so arduous. At the same time, a mostly illiterate population found its need for information on the radio waves. Finally, the radio sets, inexpensive as they have become, gave the large majority of the population easy access. One can even hear the loud music and news transmissions beaming from the caravans of nomads criss-crossing the desert parts of the country. 
The radio in particular, plays an important role in the modernization process of Yemen. It first played a pivotal role in supporting the 26th Revolution, which needed volunteers and sympathizers, especially in the first few years as it failed to win a decisive victory from the outset. Then the radio played a crucial role in the development process. Then it played a further vital role in the re-unification of the nation. Today, it plays a significant role in the democratization of our system. 
One of the early persons who worked in the Sanaa Radio Station, by far the most important and influential in the land, is Mr. Abdulaziz Shayif. Starting in 1963, he continues to reach out to loyal and appreciative listeners. Shunning administrative posts, Mr. Shayif continues his role as a distinguished announcer. 
Ismail Al-Ghabiry of Yemen Times talked to him about radio, his life, and lots of other things. 
Excerpts. 
Q: Let us start at the beginning. Tell us about how you started. 
A: I joined Sanaa Radio Station in 1963. At that time, the person who was in charge was Mr. Ahmed Hussain Al-Merwani. 
Along with another colleague, Mr. Saleh Jarallah, I was assigned to work in the news section. 
Q: What were your main responsibilities? 
A: At the time, there were no specific responsibilities assigned to anyone. The number of professional announcers working in the radio station was less than a dozen. 
Our main task was to inform the public about the meaning and virtues of the republic and revolution. We worked hard to win sympathy and support. 
You know that the Revolution was in danger, and there was a civil war going on. So, our job was to support the revolution by winning support for it. 
I remember among the most important material was the "Political Commentary" written by Ali Abdullah Sallal, son of the first president of the Republic. His writings were powerful, and we tried to enhance their impact through good presentation and sound effects. 
Q: When did you first have your own program? And what was it? 
A: I first started my own program in 1965. It was called " Min Al-Muheet Ilal Khaleej" (From the Ocean to the Gulf, meaning the Arab World). It was a weekly program which provided Yemeni listeners a summary review of the political events taking place in the Arab World. 
Q: What came next? 
A: My career continued to evolve as I took on more responsibilities. 
I started a program called "Min Kulli Bustanin Zahrah" (A Flower from Every Garden). This was jointly prepared and presented with my able colleague, Ms. Fatin Al-Yusufi. 
That was my first shift away from politics, and into the vast world of arts, poetry, love songs, etc. 
Q: What was the high point of your radio career? 
A: I am especially proud of my later program " Bareed Al-Mustame'een" (Listeners' Mail). This program brought me in direct contact with a very large number of our listeners. It also enhanced the diversity and richness of material. 
It went on for many years, and it actually continues today. 
Q: What administrative posts did you occupy in your long career? 
A: I occupied many posts, including the post of director-general of the radio station. 
I want to stress here that I find myself as an announcer and presenter of programs, not as an administrator. 
Q: You also wrote many songs and ballads? 
A: Yes, I wrote many poems which became love song. I also wrote ballads which became patriotic and revolutionary material. 
Some of the singers who used my poems are Ali Abdullah Al-Simah, Mohammed Qassem Al-Akhfash, Ahmed Al-Sunaidar, Yahia Al-Awwami, Mohammed Al-Harithi, the Kawkaban Trio, and many more. 
Q: How do you assess the condition and performance of Sanaa Radio Station today? 
A: Well, of course, Sanaa Radio Station has come a long way since those humble beginnings. You will remember that 35 years have lapsed since I joined, and I can feel the difference. 
Today, the machines and equipment are very modern, the stock of tapes and other material is enormous, and the number of people working here is in the hundreds. 
Yet, I believe that the performance can be much improved with a better management and more clarity in vision. The objective of the radio today, should keep up with the country's democratic transformation. In other words, we should reflect public opinion and the wishes of the people, and we should not lecture to them and brain-wash them on the virtues of our politicians. 
This responsibility has not yet been fully understood, let alone accepted and internalized. 
Q: What do you think of other government radio stations? 
A: There are many government stations in the country. There is one in Aden, one in Taiz, another in Hodeidah, and still another in Mukalla, etc. But Radio Sanaa is the strongest.   
Q: How do you view the possibility of private radio stations in the country? 
A: I think this is inevitable, given the present local and international trends. It would be wise if it were gradually brought in with the consent and support of the authorities. Otherwise, it would come against their wishes. 
Let me also add that I think this is going to be a positive development for this sector as well as for the country. 
Q: Any last comment you want to make? 
A: First, let me stress one more time the contribution of the radio to this country, its revolution, and its development and growth. Without the Sanaa and Taiz radio services, I think the revolution would not have succeeded. 
Second, I want to tell my fans and listeners that their feedback and interaction is important for us to constantly improve our service. 
——
[archive-e:43-v:1998-y:1998-d:1998-10-26-p:./1998/iss43/intrview.htm]