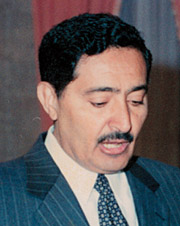 Abdulghani Appointed as Chairman of the Shura Council [Archives:2001/18/Front Page]
President Ali Abdullah Saleh passed a presidential decree on Saturday, appointing 111 persons to the Shura Council (SC), established in accordance with the constitutional amendments put to public referendum last February. The SC, which has replaced the Consultative Council (CC), includes 11 ministers from the government of Dr. Abdulkareem Al-Iryani. These ministers are: Ismael al-Wazer, Ali Hameed Sharaf, Dr. Abdullah Abdulwali Nasher, Mohammed al-Tayyib, Mohammed Ahmad al-Junaid, Hussein Mohammed Arab, Ahmad Musaed Hussein, Abdulmalek al-Sayani, Dr. Abdulmaliek Mansur, Mohammed Dhaif Allah, and Naser Al-Shaibani. It also includes three of Yemen's ambassadors from abroad. They are Dr. Ahmad Al-Kabab, Hussein Ahmad Al-Lawzi, Mohammed Al-Iryani, and Dr. Hussein Al-Amri.
The opposition party leaders who got their share in the new institution as Abdulmalik al-Mikhalfi of the Unionist Nasserite Party , Dr. Qasem Sallam of the Baath party are on the list, in addition to Judge Ahmad Al-Shami. There are also some members from the Socialist Party.
For the first time three women have been given representation in the SC. They are: Muna Bashraheel, a former MP, and Fatimah Mohammed bin Mohammed, a writer, and Tawakkul Salim Yassin.
The SC has representation from other social, tribal and business communities, some of whom were members of the former CC.
It is expected that the SC will hold its first meeting on Wednesday in which they will elect Mr. Abdulaziz Abdulghani chairman. They will also take a constitutional oath of office before the president next Saturday.
Political observers think that the change in the leadership this time is not as radical as the formation of the SC rehabilitates the careers of many former ministers, ambassadors or governors. The SC will play an instrumental role in the life of society as it has been bestowed with a lot of decision-making powers that were earlier restricted to the Parliament only. This was ruthlessly criticized before carrying out the referendum on the constitutional amendments. The criticism was on the grounds that the SC has many privileges which only the parliament has as an elected body.
——
[archive-e:18-v:2001-y:2001-d:2001-04-30-p:./2001/iss18/front.htm]