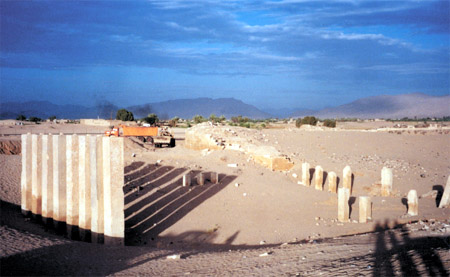 Abdulwahab Thabet to YT: "FPACH is the first foundation of its kind in the Middle East" [Archives:2001/38/Last Page]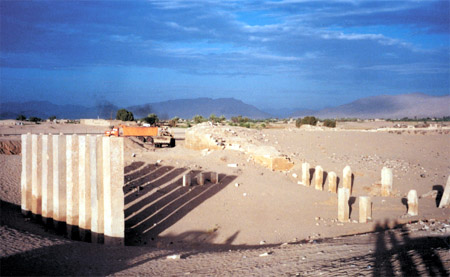 Protecting cultural heritage and antiquities is a very important thing for a nation like Yemen, which is very rich in its archeological sites and monuments. Yet, Yemeni antiquities are vulnerable to damage, deformation and stealing amid the absent role of the concerned authorities. However, for the first time in Yemen the private sector is assuming a role in preserving our rich cultural heritage through the establishment of the Foundation for the Protection of Antiquities & Cultural Heritage (FPACH), which is a private sector-run foundation. In a bid to spotlight this issue, the Yemen Times met Mr. Abdulwahab Thabet, a well-known Yemeni businessman who played a significant role in the establishment of FPACH.
Q: Could you please tell us about FPACH?
A: FPACH is a non-profit foundation established by a group of Yemeni businessmen, with the view of protecting and preserving Yemeni antiquities and heritage. I am glad to tell you that FPACH is the first foundation of its kind in the Middle East to be established for these purposes. We aim through our foundation to raise the people's awareness of the importance of our cultural heritage and coordinate with all the local and international organizations interested in supporting our activities.
Q: What are the reasons for the establishment of this organization?
A: We are deeply concerned about the state of our antiques and monuments which are in a great need for protection and renovation, and this is the main reason for the establishment of FPACH.
Q: So who was the founder of this initiative?
A: Mostly, we at Thabet Group adopted the idea, but there are also other private-sector corporations which actively participated in the establishment of the foundation, such as Almaz Group, Universal for Travel and Tourism, and the Yemeni-Libyan Holding Company. Similarly, we have set up a board of trustees for the foundation of prominent businessmen and personalities in the society like Yahea Mohammed Abdullah Salleh, Alwan Saeed al-Shibani, Mohammed Abdo Saeed, Abdullah Ishaq, Hayel Abdo al-Haq and Haitham Mohsen al-Aini.
Q: How can the organization contribute to the preservation of antiquities and cultural heritage?
A: We are going to sponsor and promote projects pertaining to preservation, protection and maintenance of cultural heritage by coordinating with the different bodies and donor agencies. Mostly we will be deeply involved in creating awareness among the people on the importance of our precious cultural heritage and antiquities, and this will be achieved through launching awareness campaigns, sponsoring activities at the National Museum in Sana'a and the other national museums throughout the country and holding permanent and temporary exhibitions in Yemen and overseas. We bear in mind carrying out small renovation projects for some archaeological sites republic-wide as well as carrying out detailed and well-prepared studies which will be presented to some donor agencies interested in supporting such projects. And if we get assistance of such, we are going to give these projects to independent contractors, and the role of the foundation will be merely for monitoring the implementation of these projects.
Q: Do you have any kind of cooperation with government bodies?
A: Of course, we should coordinate with the governmental bodies, although our foundation is a non-governmental organization. Consequently, we shall work closely with the General Organization for Antiquities, Museums and Manuscripts and all other local and international organizations.
Q: Have you adopted a particular project so far?
A: We are about to form a team of experts who will visit the ancient city of Zabid with the aim of conducting an in-depth study for a project there. You just know that the old city of Zabid is very rich in cultural heritage and there are many precious manuscripts that are unprotected. Unfortunately, the government and the locals there pay no attention to these significant monuments and manuscripts. This state of negligence is very alarming.
Q: Any final comment you may have?
A: It is a shame that Yemen has not had a foundation of such before, but I hope that more businessmen will join our efforts to enhance the role of the private sector in preserving our heritage through all the available means.
——
[archive-e:38-v:2001-y:2001-d:2001-09-17-p:./2001/iss38/lastpage.htm]