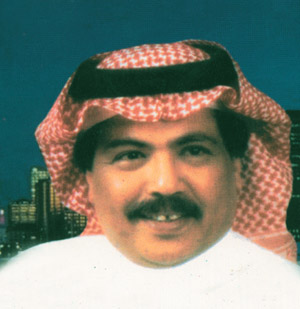 Abo Bakr Salem Multidimensional Yemeni Singer [Archives:2001/23/Culture]
Saleh Abdulbaqi
Yemen Times
The vigorous and glorious period Aden has witnessed in the 1950s and 1960s, made it a torch for thought, culture and politics. This is not restricted to Yemen alone, it extended over the whole Peninsula and Gulf countries.
Of these eminent and creative Yemeni talents is the Yemeni and gulf singer Abo Bakr Balfakih who we will shed some light on in this article. He started in this lovely and artistic city. He was born in Tarim, Sayoon district, Hadramout. He was brought up there. Tarim was also famous for the Islamic studies as well as for its original Hadrami arts. It embraces an elite group of poets including the pioneer of the Hadrami Dan Mr. Hadad bin Hassan al-Kaf. Since an early age, Abo Bakr was deeply influenced by this artistic environment. His talents were polished and matured.
In mid of 1950s Abo Bakr moved to Aden as a promising talent. He joined the education field and started teaching Arabic in al-Hundool located in Alrazmain, Crater zone. Then he got married to sheikh Arfan's daughter from Hadramout. He had three children from her: Angham, Alhan and Adeeb. His father-in-law was a strong supporter of arts. He was well-connected to many famous singers. He introduced Abo Bakr to them. Abo Bakr was at the time 20 years old. He started his artistic career as a background music player.
He worked in company with Mohammed Sa'ad Abdullah, Awad al-Maslahi, etc. He was also an associate to the late Anwar Ahmad Kasem as a lute player at the beginning of his artistic career. He continued like that till the end of 1950s.
In the early of 1960s, he gained in popularity through Aden radio as he introduced his first artistic work including "ya ward mahla jamalak, tubna khalass, etc.". He also sang some songs for the poet Lutfi Ja'afar Aman of which "Wasafoli alhub" was one. Of his important artistic work is the duet "ya Zain" which he himself composed. The duet was performed by Mohammed Saleh Hamshari and Nabiha Azeem. As a matter of fact, this form of singing, duet was not known at the time. This form of singing used to be presented in the Egyptian films for the most famous singers like Mohammed Abdulwahab, Laila Murad, Fareed al-Atrash, Asmahan, Abdulhalim Hafed and Shadiah. Abo Bakr used at the time to live near the national cinema in Crater. He used to watch many Egyptian famous films which pushed him to introduce this form in his first stage of his singing career. Hence, his Adani songs clearly reflected this.
As he could not achieve the popularity he was aspiring for, he sought for another environment where he can prosper. He went to Jeddah in Saudi Arabia in 1963 where the Hadrami community was most concentrated. Before he left Aden he met with the great late poet Hussain Abo Bakr al-Mehdar who introduced some lovely poems to him. Ever since they maintained contact and were a marvelous couple: one composes poems and the other sings them. During his stay in Jeddah he spread the Hadrami songs in special sessions and parties which he used to attend in the presence of Emirs and high Hadrami personalities. He then went to Lebanon to record songs he had already recorded in Aden like "rasoli, qal al-muana, etc. He presented a copy of these songs as a gift to Aden TV when he visited Aden during 1965-1966. Therefore, Abo Bakr has been very influential in spreading the Hadrami songs making them prosper.
His marvelous and unique voice was a clear reason behind his success. He could achieve what many Yemeni singers could not achieve.
——
[archive-e:23-v:2001-y:2001-d:2001-06-04-p:./2001/iss23/culture.htm]