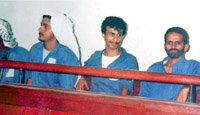 Accused Bombers Stand Trial in Aden [Archives:2001/16/Front Page]
The Preliminary Seirah Court in Creator held its second hearing session on Saturday 14 April, 2001 headed by judge Mohammed M. Al-Junaid to the try case of suspect bombers in Aden. The accused are Nasser Ali Awadh al-Shaibah, 28, Anees Mohammed Abdu Muhsen al-Awli, 22, Farooq Saleh Taher al-Esaee, 19, and Saleh Hussain Ali al-Dasem, 28. The fifth suspect Ahmad Masood has been arrested and ordered to be produced before the court in Aden. 
The accused are charged with bombings at the Continental Hotel, Saba News Agency and al-Tuwahi church, and of carrying explosives. They are also accused of drinking alcohol. The first suspect refused any legal aid and confessed his crime. However, he denied the second charge of drinking. 
Two lawyers represented the second and third suspects who denied the two charges. 
The fourth suspect, who was charged with selling bombs and explosives to the three, facilitating the transfer of explosives to Sana'a and then to Aden, denied the charges completely. The court jury requested the prosecution to produce witnesses and other evidence. 
At the end of the hearing session, the court allowed the lawyer of the second suspect to study the file of the case. It also rejected the release of the suspects on bail as they are charged with grave crimes, and ordered their remand to indicial custody. Concerning the third suspect, a secondary school student, the jury asked to prepare a suitable atmosphere for him in the Pending Investigation Office so that he may prepare for his exams. The case was adjourned to the coming Saturday, 21 April 2001.
——
[archive-e:16-v:2001-y:2001-d:2001-04-16-p:./2001/iss16/front.htm]