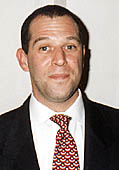 Adam Ereli: "Yemen's press has an important role to play. But it must check and double check its information." [Archives:1998/31/Law & Diplomacy]
Mr. Adam Ereli is the Public Affairs Officer at the US Embassy, and is responsible for all press and cultural relations between the US and Yemen. He arrived in Yemen in August 1996. He will be leaving on August, 7th, 1998.
During his tenrure, he has strengthened contact and cooperation with the media, and intellectual circles.
On this occasion, Dr. Salah Haddash, Managing Editor of Yemen Times talked to Mr. Ereli, and filed the following interview.
Q: What are your impressions of Yemen as you prepare to leave?
A: I would say that out of the four countries I had served in – Yemen, Egypt, Syria and Ethiopia – I think I've benefited and gained the most from Yemen. On a personal level, the friendships I've made, both with Yemenis and members of the expatriate community, have been very satisfying in both quality and quantity.
On a professional level, I am equally satisfied. We in USIS and the US Embassy have been able to develop a number of very close and mutually beneficial relationships with Yemeni institutions, which have allowed us and our partners to accomplish things that serve Yemen's and American interests.
Q: How do you see Yemeni democracy evolving?
A: Most people would agree that democracy is a process. It's not something that is created over night. It takes years and years of practice to develop. That has certainly been our experience in the US and I think that's the approach which the Yemeni people are taking to democracy.
Nobody would say that democracy in Yemen is perfect. By the way, neither is the democracy in the US, after 200 years. Rather, there is a willingness and a commitment to keep improving it, continue having elections, continue political party activity. Practice will improve the system. That's the way democracy works. It's a constantly evolving and improving process that responds to the needs of the people. In order to move forward you have to keep practicing democracy.
Q: You have an active relationship with Yemenis. You go to many qat chews?
A: I participate in Yemeni social sessions. A lot of people, both Yemeni and foreign, believe that qat is negative because it takes up a lot of the peoples' time and money. It uses a lot of water which is a scarce resource and it uses a lot of land which could be used to cultivate cash crops.
I'm not going to argue with those points. But, in my experience, I believe that qat serves a very useful social function by giving people the chance to blow off steam. The problem is that if you don't let people blow off steam, it builds up and the explosion can be much greater.
Being able to sit down, express yourselves and give vent to your ideas or opinions is very important and very healthy for society. I think qat plays an important role in free expression in Yemen. It allows people to get things off their chest. In that sense, it's productive and positive.
It is also an important social event. Yes, I go to meet friends in qat chews. It is also an occasion to exchange views.
Q: As a cultural officer, how do you assess the development of journalism in Yemen?
A: I think there's a lot of room for improvement. There is a great lack of trained journalists in Yemen.
Credibility is an important aspect f a good press. Unfortunately, in Yemen, a lot of the stuff in the press just isn't true. Sometimes, we call up journalists and newspapers to tell them what they print isn't true. And if they know it's not true then they shouldn't print it. But a lot of times they don't care if the information is true or false. They just have a point of view they want to get across or they use the press to attack someone or institution.
I don't mind people printing something about the US if it is a fact, but not when they know it's wrong. That's irresponsible. In the US it's illegal to knowingly print false information with the intention of defaming. From a personal experience I find that frustrating.
On the other hand I think the press in Yemen is very important. It has an extremely important role to play in the development of the country. Unless you have a press that's free and open and examines the issues and debates them intelligently, then you're not going to be able to develop.
If you look at any developed country, one of its key institutions is a free press. So my conclusion would be that journalists here, especially those in the opposition and independent press, have a very important responsibility to the development of the country.
I would urge them to do their job professionally, to investigate, to verify, to interview, to ask questions, and print what they find out. Don't print rumors and innuendoes, but print facts and print what you know. There are many journalists doing it, and the increasing number who do is important.
Q: You have been honored by the Fulbright Alumni Association of Yemen. Can you tell us about it?
A: We established in cooperation with Yemeni graduates of the Fulbright scholarship program a Fulbright Alumni Association. I would have to say that this was one of my proudest moments during two years in Yemen: to be able to contribute in this way to the development of the country.
Q: How do you find the Yemeni people in general?
A: In my dealings with Yemenis I've found to be open, honest and straight forward.
My wife always says that she very much admires the Yemeni people's pride and tolerance.
——
[archive-e:31-v:1998-y:1998-d:1998-08-03-p:./1998/iss31/l&d.htm]