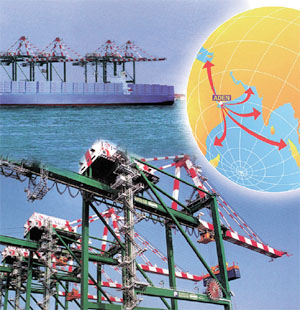 Aden Container Terminal Achieves Remarkable Growth in 2001 [Archives:2002/06/Last Page]
PSA Corporation's Aden Container Terminal in Yemen surged 52% to 377,400 TEUs (twenty-foot Equivalent units) in its business volumes for 2001. The rapid growth of the corporation can be attributed to its rising popularity among the international shipping lines as a hubport and its ability to attract transshipment traffic. Aden Container Terminal started operations in 1999.
Mr. Richard Cheong, Chief Executive Officer, Yeminvest, said We would like to thank our customers and the Yemen authorities for their unwavering support for ACT in the past few years. ACT will continue to be very customer-focused, tailoring its services to meet the unique needs of each of the shipping lines and provide them with fast and cost-effective services. PSA will also work hand-in-hand with the Yemen authorities to make ACT a world-class regional transshipment hub.
Mr. Dirham Abduh Noman, Vice-President, Yemen Free Zones Public Authority, Chairman, Aden Free Zone said: Since ACTstarted operations in March 1999. It has seen steady growth in business volumes and customers. This is a testimony of the good work put in by Yeminvest in collaboration with the Aden Free Zone.
Over the past three years, we have enjoyed an amicable and productive working relationship with Yeminvest and PSA. We are committed to working with the Yeminvest to attract more multi-national cooperation to locate and establish their businesses here.
The Governor of Aden, Mr. Taha Ahmed Ghanem, said:The continued increase in throughput at the Aden Container Terminal is testimony of the confidence and trust international and local shipping companies have in Aden and Yemen. The potential business opportunities Aden offers are tremendous. Yemen is committed to encourage the growth and development of its economy and assures that it is safe and conducive to do business here.
Aden will regain its past glories, said Mr. Ali Mokhadri, Deputy Chairman of the Aden Shipping Conference and Deputy General Manager of the Middle East Shipping Co, Ltd. In my many years in the shipping trade, never have I seen the progress made in shipping and cargo volumes as in the last three years. I am confident that ACT will continue to bring in more throughput in the coming years.
Yeminvest is also working actively to develop Aden into an integrated transport and distribution hub. Yeminvest has completed work on the Start-Up Phase I at the Aden Distripark at the end of 2001. Aden Distripark has been developed to encourage local warehousing, light/medium manufacturing industries and regional distribution.
ACT offers good and frequent connections through major shipping lines such as, APL (5 weekly services), P1L (4 weekly services), Uniglory/ COSCO, HTM, P&O Nedlloyd and ICFS. Other shipping lines that call regularly on ACT includes BST, H. Stinnes, Maersk-Sealand, and WEC Beaco line.
Aden Container Terminal is a Greenfield project developed by Yeminvest- a joint venture between PSA Corporation Ltd. and Yemen Holdings Ltd. PSA Corporation holds a 6%equity stake in Yeminvest with Yemen Holdings Ltd. retaining 40%. It is also the first port project that was developed with foreign participation. Under a Terminal Management Contract signed in October 1997, PSA will manage and operate ACT for a period of 20 years and perform the marketing, and staff recruitment and training functions.
PSA Corporation operates the world's largest container transshipment hub in Singapore. It provides every shipper with an unrivaled choice of 250 shipping lines with connection to 600 ports in 123 countries. Besides its operations in Singapore, the PSA Group participates in 13 port projects in eight countries around the world in Belgium, Brunei, China, India, Italy, Korea, Portugal and Yemen.
Aden Bureau
Yemen Times
——
[archive-e:06-v:2002-y:2002-d:2002-02-04-p:./2002/iss06/lastpage.htm]