Aden Free Zone Bids Farewell to Subramaniam [Archives:2001/28/Local News]
Ridhwan Al-Saqqaf
Aden Bureau Chief
The General Authority of Free Zones organized a fare-well party for Mr. MMJ Subramaniam, Executive Manger of Yeminvest. Chairman of the Aden Free Zone, Mr. Dirhem Abdu Numan, praised Subramaniam's role in the establishment and development of the container terminal. He said that Mr. Subramaniam valued work more than of his health and as a result he got a heart attack. He also welcomed Mr. Richard, who stepped into the shoes of Mr. Subramariam wishing him success in his new post.
Mr. Subramaniam thanked Mr. Numan for organizing the fare-well party as well as for his generosity and good relationship. He bade an emotional farewell to his friends and colleagues.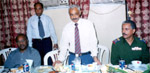 The event was attended by Brigadier Staff Mohammed Saleh Tureiq, Director of the security office in Aden, Mr. Saeed Al-Aqel, Chairman of Aden prosecution, Mr. Rashad Hayel Saeed Anam, Regional Director of the
Hayel Saeed Group of Companies in Aden and a number of politicians, businessmen and media representatives.
——
[archive-e:28-v:2001-y:2001-d:2001-07-09-p:./2001/iss28/ln.htm]