Aden Sea Port: Competing with the Gulf Ports [Archives:2001/42/Business & Economy]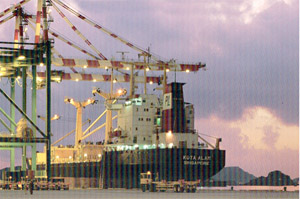 Aden sea port, which has lately tried to revive its past glory as a navigation transit point, faces tough competition from Salalah, Dubai and Djibouti.
Since the terrorist attack on USS Cole in October last year, local authorities of the Aden Sea Port have been studying a promotional plan to restore confidence in the harbor. The plan includes converting the port into an important export center and achieve a good rank among the other important seaports in the region.
Aden port has an advantage over Dubai port which is the saving of two sailing days through the Ormuz Straits to the Arab Gulf. However, it still needs a more developed infrastructure to compete against the 23 titanic cranes featured in Dubai port.
Like Aden seaport, the Omani Salalah port enjoys an excellent strategic location. The Omani authorities have been working hard to develop the container terminal in Salalah in order to offer better services for the Gulf and the Indian Ocean. The port sees about 1.5 million containers transiting per year and features 12 gigantic cranes.
Economists believe that Aden port could offer strong competition to Dubai and Salalah ports by offering better prices for good services. They add that its significant location is attractive to vessels from the Red Sea and the Indian Ocean. According to them, the real threat on its future may come from Djibouti if a free zone is established there.
Navigation sources say Aden port serves huge vessels that are usually served by a few great ports, which means that this will affect both Dubai and Salalah ports as transit companies will shift their activities to Aden.
It is expected that someday Aden port will be a very busy and active trading center that will help Yemen gain revenues to strengthen the general budget. To achieve such a position, authorities should work out plans to attract the huge vessels and develop the port services.
——
[archive-e:42-v:2001-y:2001-d:2001-10-15-p:./2001/iss42/b&e.htm]