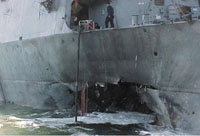 After Bush praises Yemen's role in combating terrorismU.S. blasts Yemen for releasing "terrorist" [Archives:2007/1098/Front Page]
Amel Al-Ariqi
Washington, Oct. 28 ) U.S. presidential candidate Rudy Giuliani called on the U.S. government to cancel $20 million in aid to Yemen for releasing Jamal Al-Badawi, who is believed to be linked to the 2000 bombing of the USS Cole destroyer in Aden.
Giuliani, former New York City mayor and now an aspiring presidential candidate for the Republican Party, argued for Yemen to turn over Al-Badawi to the U.S. for trial. "Until Al-Badawi is rearrested, America should use all means at its disposal to pressure Yemen to stop siding with terrorists. As a first step, I urge the U.S. government to cancel the more than $20 million in aid scheduled to be delivered to Yemen. Terrorists must be held accountable for their actions and so must the governments that offer them safe harbor," Giuliani stated.
A Yemeni Interior Ministry source said on Sunday that Al-Badawi was still detained, in comments carried by a Web site (www.26sep.net) that is very close to the government. The website did not give more information.
Al-Badawi was sentenced to death in 2004 for his role in bombing the USS Cole, which killed 17 U.S. soldiers, but that sentence was reduced to 15 years in prison.
Al-Badawi was among a group of 23 prisoners, including many suspected Al-Qaeda figures, who escaped from a Sana'a jail last year. He turned himself in about two weeks ago, but remains wanted in the U.S., which has put a $5 million bounty on him.
Details of the decision to release Al-Badawi from prison were not known, but a Yemeni government official who asked not to be identified told Reuters on Thursday that Al-Badawi remained "under close scrutiny and control by security forces."
According to a statement Friday by the U.S. Justice Department's National Security Division, "The United States is dismayed and deeply disappointed at the Yemeni government's decision not to imprison [Al-Badawi].
"We've communicated our displeasure to Yemeni officials and will work with the Yemeni government to ensure that Al-Badawi is held accountable for his past terrorist actions," the statement continued.
It pointedly referred to Al-Badawi as one of the FBI's most wanted terrorists, noting that New York City prosecutors want to get their hands on him.
Such U.S. criticism comes a week after the most recent visit by Francis Townsend, President George W. Bush's assistant for Internal Security and Combating Terrorism Affairs, who conveyed a message to Yemeni President Ali Abdullah Saleh affirming U.S. support for Yemen in development, education, military, security and fighting terrorism, according to the official Yemeni press.
It was unclear if Townsend discussed Al-Badawi's case with the Yemeni side.
However, CNN quoted U.S. officials as saying that Al-Badawi's case is inconsistent with cooperation between U.S. and Yemeni counterterrorism officials. In this regard, Yemen's official Saba News Agency reported that a Yemeni military delegation, headed by staff commander Gen. Ahmed Ali Al-Ashwal, left for Washington on Saturday for talks with U.S. Defense Ministry officials and staff.
Speaking to Saba, Al-Ashwal said the delegation will discuss with U.S. officials the means to enhance military cooperation between the two nations, particularly training Yemeni personnel and officers in the United States as well as bringing U.S. experts to Yemen to train Yemeni anti-terrorism military units here.
——
[archive-e:1098-v:15-y:2007-d:2007-10-25-p:front]