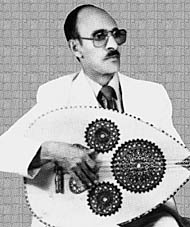 Al-Harithi: A Distinguished Singer [Archives:1998/32/Culture]
Mohammed Hamoud Al-Harithi is considered one of the greatest figures in the traditional Yemeni style of singing, known as "Ghinaa Sanaani" or Sanaa singing. Ghinaa Sanaani commands a most distinguished place among singing styles in Yemen. It was perfomred in both Sanaa and Aden by leading singers.
Al-Harithi was born in 1935 in Kawkaban, Sanaa Governorate, which is well-known for its fascinating natural beauty, ancient history, and distinct contribution to arts and culture.
He took up singing early in his youth, and used to listen to the old traditional songs by outstanding artists such as, Al-Qa'atabi, Al-Mass, Ba-Sharaheel and others, which were recorded on the old-style gramaphone wax discs. Al-Harithi used to listen to these songs in private and in secret because singing was frowned upon in Yemen during the Imam's reign.
He began to learn playing the Qanbous; the old lute. This is locally made and has of 4 strings. Encountering the Qanbous for the first time being played at a qat-chewing session, Al-Harithi said he became very keen on learning how to play this wonderful instrument. In that qat chew, he picked the qanbous at the intermission as it was left near him.
Al-Harithi first song was "Al-Hashimi Gal" or Al-Hashimi said.
He continued memorizing many old and traditional songs with his friends. His reputation soon reached to Sanaa. So when he arrived in the city, people rushed to host him to join in their qat sessions. Attending qat chews in Sanaa, Al-Harithi saw a new instrument – the "Kabang", a five-string lute brought from Iraq and Egypt.
He offered to buy the Kabang from its owner, who actually agreed to sell it. But Al-Harithi did not know how to tune this new lute, since it was different from the Qanbous. When he later met Mr. Hussein Refaat, who was proficient in the newly imported lute, he was tutored to tune the strings. At this stage, he joined the world of traditional singers using his new lute.
After the September 26th Revolution, the revolutionary leaders wanted art to play a more prominent role in Yemeni culture by encouraging performances at victory-celebrating ceremonies. Therefore, Marshal Abdullah Al-Sallal, the first President of the Republic, sent a letter to Al-Harithi inviting him to be employed at the Sanaa Broadcasting Authority.
Accepting Al-Sallal's invitation, he brought his artistic dreams and aspirations to government circles, which was an opportunity for the development of Yemeni art. His first patriotic song recorded by Sanaa Radio was 'Sahaqna Al-toghat' or 'We crushed the tyrants,' which is distinguished by its wonderful tune. It made the Yemeni people respond with great enthusiasism and added a lot to his artistic credit.
It goes without saying that Al-Harithi had special characteristics distinguishing him from other artists such as Al-Anisi and Al-Sonaidar, who were his contemporaries. He played a major role in popularizing traditional songs.
I first met Mr. Mohammed Al-Harithi during my visit to Sanaa in 1967-68. I was at that time a musician in the Arab Music Band, under the famous maestro Ahmed Hadid. We both sang at the Sanaa Broadcasting Authority, which greatly contributed to the distribution of songs by Al-Harithi and other artists. The band invited Al-Harithi, Al-Anisi and Al-Sonaidar to visit Aden and participate in musical performances by the band. Al-Harithi and the other artists were received with much respect by the people of Aden, when they later came. They were able to record their songs for TV and radio.
Al-Harithi, as a well-known Yemeni singer, represented the nation in various cultural and international gatherings in Arab countries. He was decorated several times for his distinguished creativity and contributions.
Saleh Abdulbaqi,
Arts Editor, Yemen Times.
——
[archive-e:32-v:1998-y:1998-d:1998-08-10-p:./1998/iss32/culture.htm]