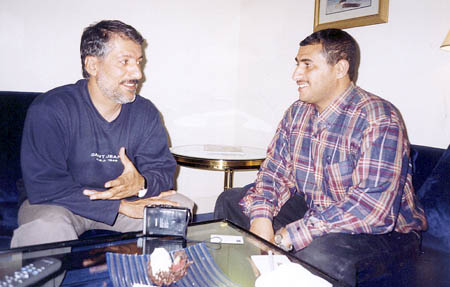 Al-Jazeeras general director to YT Al-Jazeera influences Arab political decisions [Archives:2002/13/Law & Diplomacy]
BY MOHAMMED H. AL-QADHI
YEMEN TIMES STAFF
The new media is doing much to change the Arab world. The release of a number of satellite TV channels and internet sites is, of course, making radical changes in Arab public opinion.
Al-Jazeerah is the leading channel that has broken barriers in various ways.
Yemen Times met Mohammed Jasim al-Ali, al-Jazeera board member and general director at The New Media and Change in the Arab World Conference in Amman and discussed with him issues relating to new media and the experience of al-Jazeera in this respect. Following are edited excerpts of the interview.
YT – How do you think the New Media Conference is important in bringing private Arab media together?
al-Ali – I think the Arab world needs independent and private media organizations to come together. They can play a considerable role in the drive to change. The government media is marginalized. Therefore, their role in the future is very significant and pivotal. Such meetings for private media enable us to exchange views and cooperate as well as compete. The New Media Conference brought us closer and we discussed how to improve our job in the future.
YT – How far do you think new media is changing the Arab world?
al-Ali – The new information technology is a great revolution that is bringing the world community closer and closer. The so-called invasion which we used to fear for a long time is now among us. Censorship is no longer effective for information.
This, of course, was an important reason behind the launch of satellite TV channels. In the beginning semi-independent channels were born, but they couldnt change strongly. Later, the phase of private channels came to life.
Regardless, whether we agree or disagree with al-Jazeerah experience, it is a turning point in the history of the Arab media. It has been able to change many concepts which we believed for a long time to be true. It has also affected other media organizations. Now, there is a tendency for more freedom and we hope the drive of change will speed up and grow further.
YT – Do you believe that for this reason al-Jazeera has disturbed Arab regimes?
al-Ali – Al-Jazeera chose another way different from other media channels. It specialized in news reporting. This was not done by others in such a specialized manner. The BBC tried to broadcast in Arabic but later it was, unfortunately, closed down.
When al-Jazeera came to existence, there were a lot of red lines and taboos that were not to be crossed. However we went beyond them.
Some officials in the Arab world had different views of us in the beginning. But now after five years, they realize that al-Jazeera is a reality to be recognized.
Frankly, Arab officials who used to refuse to participate in analytical news reports or debates on sensitive issues, now take the initiative and show interest in taking part in discussions of hot issues.
YT – Does this mean that new media is forcing even the Arab Big Guys to deal with the new changes?
al-Ali – Of course. Our experience in al-Jazeera makes us feel that there is a change and people have started to interact with the media. Governments have realized the importance of the media and the interaction with it. Al-Jazeera could considerably influence the political decisions in the Arab countries.
We believe there is no absolute freedom. There was pressure from the US administration on the US as well as Arab channels not to give chance to the Taliban and al-Qaida leaders to appear and present their opinion. But our mission is to give different opinions an opportunity to be presented.
This doesnt mean that we support one side against the other. For instance, when we make Israeli officials appear on al-Jazeera, it doesnt mean we favor their views. It is the professionalism that makes us do so.
YT – It is said that freedom in the world has been changed by the attacks on the U.S.A. Do you agree?
al-Ali – Yes, of course. I do believe before the September 11 attacks, there were more freedoms for the media but now those freedoms have been restricted.
Journalists are now obsessed with the ghost of self-censorship, as a number of freedom-restricting laws have been made in the U.S.A, Europe and Arab countries.
In al-Jazeera we are trying to maintain the bond of trust between us and the viewers. It is now difficult to direct them to watch a particular channel for the information sources. So we do care about our credibility and we will continue to work in the same way.
YT – To what extent has the war in Afghanistan helped al-Jazeera?
al-Ali – The war in Afghanistan helped us a lot, since we were the only Arab channel operating there. How would have the worlds media operated if we were not there? Was it going to present the opinion of one side only?
We had the same experience during the Desert Fox operation in December 1998. We were the only channel covering this operation.
But the war in Afghanistan gave us more publicity all over the world. We could at times be the sole source of information. This brought us closer to the other media organizations as well as viewers. Most people all over the world are now familiar with al-Jazeera. We are now a source of news.
We now have agreements with CNN, ABC, NBC, FOX, BBC and German ZDF. Another agreement with the Japanese NHK is underway.
Our cooperation with CNN is particularly important, in the sense we agreed that correspondents of both of our stations can appear on our two channels. We have a meeting next April with CNN to discuss what we did in the past and how to further cooperate in the future. We would like to have similar cooperation with Arab channels.
I believe one of the most important recommendations of the new media conference is to establish a body uniting all independent Arab channels. We need such organizations or unions, for we are faced by many difficulties and constraints. We should hurry to find support from media establishments in the Arab World.
YT – How do you manage finances?
al-Ali – As you know, when al-Jazeera launched in 1995, it was loaned 500 million Qatri Riyals by the Qatari government for five years. The loan ended in November 2001 and now we are self-financed. We have tried to find other sources of income other than advertisements and selling documentary programs to other channels.
The most important thing is how to deal with the information and become its producer and exporter rather than consumer. We are operating from the Middle East, which always has escalating events.
Middle East and Islamic countries are a good place for specialized news channels. We sell photos, information and hire our devices to other channels. This generates money. Al-Jazeera is also a pay-TV channel in the USA, Australia, Asia, Africa and Latin America. The September11 incidents helped us to join cable TVs in Europe, the USA and Asia. So we invest in these fields and get a good amount of money.
YT – What are your future projects?
al-Ali – The board members of al-Jazeera headed by Sheikh Hamd bin Thamer have ambitions to improve the services of the channel. Over a year ago we lunched al-Jazeera net service. We will soon launch a serialized documentary channel in Arabic. We are studying a project of starting an economic channel plus other ambitious projects.
I believe we can improve our work better if we depend on a qualified team a well as introducing highly advanced technology to our work. We depend on these two elements in our work.
With regards to broadcasting in English, in our next meeting of the board members, we will discuss a project of launching a channel in English. Right now, we broadcast in Japanese for four hours a day though a cable network in Japan. We have signed an agreement with a US company to broadcast in English for 12 hours a day through live interpretation for our programs to reach people in the USA.
——
[archive-e:13-v:2002-y:2002-d:2002-03-25-p:./2002/iss13/l&d.htm]