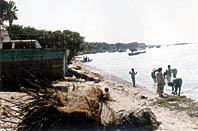 Al-Khawkhah: Exquisite Conventions [Archives:1999/06/Governance]
Visiting some places in the Tihama gives one an immense pleasure. To go there and see the life of the people living near the sea is actually very much interesting. Truly, one cannot fail to read the ordeals of these people living in these areas surrounding the Red Sea. It is very clear and readable in their faces. However, it is very amusing to meet these people and get a close face-to-face contact with their conventions and traditions. Now let's go together and visit some of the marking outstanding landmarks of the city of Al-Khawkhah.
Al-Khawkhah is one of the cities that belong to Hodeidah governorate. It is roughly 35 km far from Makha. The most outstanding feature distinguishing this city is the long line of palm trees stretching along the sea shore. Anybody who visits this city praises its distinguished breezy and fresh air and moderate climate. For this reason, it has become a tourist destination for a good number of people from inside and outside the country. Whenever they have a chance to go on holiday, school and university students pick up the city.
Abu Zahr: A promising Tourist Attraction
Abu Zahr is the most beautiful tourist village in the city of Al-Khawkhah. It is marked with its dense palm trees, covering most of its area. These palm trees are used as tents where people visiting this city camp near the beach. It is really fascinating to go sightseeing there.
This beautiful village has been announced as a tourist village but it is short of many essential facilities and services like electricity, water, health and telephone services. I believe this village can be develop into a promising splendid tourist attraction. This will take place if the people in authority pay more attention to it.
Tourist dive in Al-Khawkhah
It is noticeable that hotels there are very traditional. They are made up of palm trees where small rooms are built from clay and reed. I talked to a hotel owner in Abu Zahr about the tourist drives nowadays. He told me that it is considerably affected by the recent kidnapping and terrorist incidents. He noted that tourist drive was very active in the last year, particularly during Christmas days. He also added that many tourist agencies canceled their reservation. Therefore, this problem should be promptly addressed. At another level, I noticed that the hotel is not provided with a telephone service. When I asked him provided with a telephone service. When I asked hi how he could manage this, he told me that they use a pager to keep in contact with their clients. After that they have to go to the city of Al-Khawkhah, 5 km, to make telephone calls. It is very difficult, isn't it?
I wonder! What would really happen if these essential services are introduced to this village? Surely, it can attract a good number of tourists and thus earn a lot of hard currency.
People of Al-Khawkhah: Hard life
People living in Al-Khawkhah are having a very tough and hard life. One can visibly read this in their faces. When you reach there, children and youngsters catch you tightly, starting to show their own services. Most of the people are fishermen. Some do the business of making boats for there are around 30 boat workshops. They go far away by profession, told me that the longest fishing journey lasts for 15 days. Some of these fishermen earn a lot of money but some others do it to keep their body and soul together. Most of the time they sell their fish in Hodeidah. These fishermen complain against the heavy taxes levied on them which extends to more than 10%.
Marriage Ceremonies in Al-Khawkhah
Marriage festivities differ from one place to another inside Yemen. The Tihama area has its own style in celebrating these festivals. More over, each city in Tihama has its own distinguished features. In Al-Khawkhah, the dowry, as told by people there, was not much; it was around YR15,000. But now its has shot up. The minimum expenses of a marriage ceremony costs YR 300,000. The ceremony usually starts on Tuesday. It is called Al-Quma'a where the bride embroiders her hands with hena. On Wednesday, a session is made for the bride; she receives the presents and congratulations of her friends and relatives. On Thursday, the bride moves to her groom's house and in this very day a party is made for men only. A tent called "Makhdrah" is set for men and a plot form is made for the groom; he sits on a bed and chews Qat with his friends and other VIPs; others sit on beds made up of reed. They all chew Qat while dancing and drumming goes on. One of the remarkably visible and newly introduced customs in the Tihama area is gun firing in marriage festivals.
Female Circumcision
Female circumcision, a term used for different surgical operations carried out on Female genitalia, is one of the deeply-rooted practices, being done in the Tihamma. There are traditional reasons behind this practice and is supported by great social pressure. This practice is predominant all over the areas of Tihama. Asked about at this illegal practice, people of Al-Khawkhah told me that it has become a convention since a long time ago. This practice is carried out by a woman or sometimes a man and mostly is done at home.
By Mohammed Hatem Al-Qadhi
Taiz Office Editor
Yemen Times
——
[archive-e:06-v:1999-y:1999-d:1999-02-08-p:./1999/iss06/govern.htm]