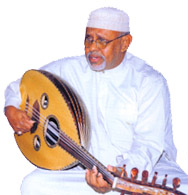 Al-Morshidi Pioneer of the Yemeni Contemporary Song [Archives:2001/51/Culture]
Saleh Abdulbaqi
Yemen Times
Mohammed Morshed Naji, (al-Morshidi), is no doubt the pioneer of the Contemporary Yemeni song. His popularity has exceeded the local borders to reach the Gulf and Arab countries. I met him two years ago in the house of his nephew, Fuad al-Yosofi, in Aden. I still remember a lot of what he said about his life and beginning as a singer
He was born in Aden, where he was also brought up and got educated. He worked for sometime for the Ministry of Education. Then he was appointed a secretary of the Sultan al-Fadhli in Abyan. After that he held a number of government posts.
His interest in signing was in him since he was young. He began singing in weddings and maqials. His sweet voice made his star shine quickly in the south of the country. Soon his popularity exceeded the borders to reach many of the Gulf and Arab countries.
Even when he got older, he went on singing when meeting with his friends in maqials in Sheikh Othman.
In fact, the start of the great Yemeni singers was similar to many people in Aden. The majority of people at the time had the typical oriental musical instrument, the Oud. They practiced singing because they liked it, but they never thought to become professional singers. The situation continued like this until the emergence of the Adani Forum which was chaired by Khalil Mohammed Khalil. Many young artists joined the forum. Mohammed Morshed Naji was one of those who would go their so often to practice his favorite habit.
The Forum helped marked the first stage of the Adani song in the 1940s. However, they were mere attempts away from creativeness. It was Salem Ahmad Bamdahf, al-Morshidi recalled, that first turned into the creative production by his song azzen jeza mara. Others then started to follow suit.
In one of his trips to Britain with the Sultan al-Fadhli, al-Morshidi presented his song Waqfa in 1951 which shifted him to the stage of stardom. The song was written by Mohammed Saeed Jaradah.
The first time al-Morshidi appeared in a soirée was with Ahmad Qasem. At the time he was the Oud player at the request of Ahmad Qasem. The two went on singing achieving good reputation and popularity among the audience in the south. In the course of time, fans and supporters of each one started to increase day after day. In the long run, each one has to go to his own way making an artistic school by himself.
Besides his love and passion songs, al-Morshidi has also sung for the country since the break-out of the July revolution of Egypt. He was also one of those who supported the national resistance against the British colonization. These songs still enjoy good popularity and reputation until now.
Al-Morshidi was honored in many local and Arab occasions. He was awarded many medals two of which he received in April and May 2001 in Bahrain and Oman.
Al-Morshidi is also a well-known author. He has made a number of researches and studies on Yemeni songs.
——
[archive-e:51-v:2001-y:2001-d:2001-12-17-p:./2001/iss51/culture.htm]