Al-Takareer, a beautiful yet forgotten wildlife sanctuary [Archives:2003/644/Last Page]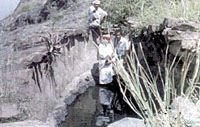 Adam Yahya Ahmed
Hodeidah.
For Yemen Times
Full of natural life and untouched beauty, Al-Takareer is wildlife preservation where rare species of trees, animals and birds live. Its situation is 64 km to the south- east Hodeidah with an area of approximately 35 square kilometers. Green mountains dominate two thirds of the area while the remainder one third is fertile arable plains.
Al-Takareer is 650 feet above sea level, inhabited by around 15 thousand people occupying three regions:
– Al-Thubab area, in the south overlooking Alooja Valley whose waters flow down from Al-Ja'afariya District Mountains.
– Moryeem area, Abraham Valley, situated in the middle part of Al-Takareer sprawling on both sides of the valley and is considered the center of the district of Al-Takareer and is more densely populated.
– Bani Hanash is in the northern part of al-Takareer, overlooking Al-Ribat Valley. All these areas are famous as habitat of rare birds, animals and fragrance plants.
Among the animals to be seen living in Al-Takareer are tigers of red, black and white colors, two kinds of monkeys. Wolves and foxes also live in the region in addition to red and black leopards, as well as very fast running gray-colored kind of deer. The Al-Takareer wildlife sanctuary is also the habitat of some kinds of birds, rabbits and reptiles. Of kinds of birds there are the partridge, falcons and eagles and a variety of sparrows and singing birds.
Trees
Gum trees are popular in Al-Takareer and also dye trees. There is also a rare category of palm trees, and Aloe and other giant trees. In the area there are also screw pines and all kinds of fragrant flowers and roses.
Livestock
The local population takes much care for animal wealth such as camels, cattle and sheep. They also breed bees.
Al-Takareer is not only a wildlife sanctuary but also important historical sites the ruins of which are still seen as landmarks of ancient civilized life such as, Aksh Mountain fortress in the central region, a grand fort in Mount Kreerama, dams and water barriers in the north at mountain Hanash area. They are still intact today. The ancient Yemeni writing of al-Musnad script is still visible on some of these dams. Added to those there are some caves cut inside the rocky mountains. There are also Himyarean forts and monuments on top of Jahzat Mountain overlooking Alooja Valley in the south area of Al-Takareer.
In spite of all this beauty and natural resources, Al-Takareer is instead of being a tourist attraction and a preserved wildlife sanctuary it is badly neglected and is lacking of the basic services such as water, medical centers and not even a single school for girls who are up till now deprived of education. There is only one primary school for boys built in 1986.
What's worse is that the Al-Takareer is excluded from plans of official tourist authorities and tourist agencies. Therefore, Arab and foreign tourists do not know anything about al-Takareer preservation.
To take care of such a rich place is a duty and must be done immediately before damage creeps to everything in the area and many of animal and plant species get doomed to extinct.
——
[archive-e:644-v:13-y:2003-d:2003-06-23-p:lastpage]