An Artist In The Making [Archives:2002/05/Last Page]
At Nadira Faculty of Education gallery I met him, a thin but on active ambitious Yemeni young man with wide smile explaining themes of different posters on intifada, calligraphy and social caricature. Above was a welcoming banner said Welcome to Yasser al-Ghazeer Exhibition. He warmly welcomed YT and happily answered the questions:
Q: What does your ID Card say?
A: Yasser Mohammed al-Ghazeer. Born at Nadira – Ibb in 1973, Graduated from college of Arts – Islamic studies Dept, University of Sanaa. A teacher at al-Wahada secondary school – Nadira
Q: How did you discover you talent?
A: In the early days of my life I was fond of drawing but I was afraid because school and society had no serious and acceptable views on Arts as studying was the most important task of a pupil.
Q: What about your father and later school?
A: Firstly, father didnt encourage me to draw saying it was a waste of time and it would divert my attention from study but in school a Sudanese teacher of Arts adopted my works for I was the best at school. Later on my sisters and friends encouraged me much. I was lucky to have a big number of books from Iraq on painting, calligraphy and fine arts. I kept reading about local, Arab and international schools of Arts for 12 hours daily. Then I held my first exhibition which included 15 paper posters at home!
Q: As a university student how did you deal with arts?
A: I held several exhibitions at the Faculty of Education and I represented the college in Thamar. I sent many posters to Baghdad where I was offered three scholarships but unfortunately I didnt go for personal reasons.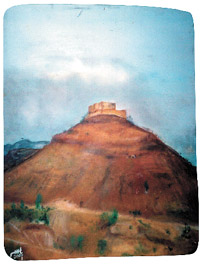 Q: Other activities?
A: I held many symposiums on Arabic calligraphy, its origins and development in al-Wahdah school with other teachers. I wrote a book named How to Learn Kufi Calligraphy. It is ready to be published. There is also an another book on text-hand in addition to nine exhibitions on intifada, Yemeni Unity and social problems. By the way I will never forget the one in Ibb which was attended by the Minister of Education the Minister of Agriculture and the government because I competed with famous artist and was rewarded among them.
Q: Your future projects?
A: Ihave been invited to take part in the A step on the way TVprogram by director Shakir al-Shami and another invitation to share in an exhibition in Ibb in May.
Q: A final aim?
A: I hope to be an artist at Arab and international levels.
With grateful words to YT for offering him a chance of introduction he said, Goodbye
Interviewed by: Saad Sharif Tahir
Nadira
——
[archive-e:05-v:2002-y:2002-d:2002-01-28-p:./2002/iss05/lastpage.htm]