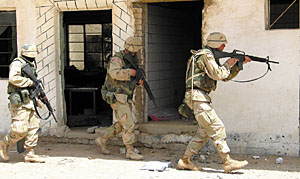 As 29 Yemenis were prevented from leaving to Baghdad, 30 are there to defend it:Street war begins [Archives:2003/630/Front Page]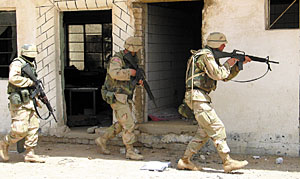 Reuters & Yemen Times Staff
Baghdad – As recent report from Iraq confirmed that US forces have entered Baghdad on Saturday, Iraqis as well as hundreds of Arabs are bracing for a long and exhausting guerrilla fighting that could be carried into the summer, when soaring temperatures would sap the American will to fight.
Despite the superiority of the US military, there is hope amid Yemenis and Arabs that the US forces will not be able to continue for too long. "We will do our best alongside our Iraqi brothers to find Americans face to face" said one of the Yemenis who arrived in Baghdad recently to fight US forces. The Yemeni government however, tried to limit the number of Yemenis leaving to Baghdad as much as possible. It was reported that Yemeni authorities at Sana'a airport prevented Thursday 29 persons from leaving the country for Syria on their way to Iraq to join 30 others who have already arrived in Baghdad last Wednesday.
The volunteer fighters denounced behavior by the airport authority and even clashed with them. Some of them were arrested while others set a strike inside the airport for some hours and went back home without their passports.
Some sources said that the Syrian airlines said that the passengers should have a round trip ticket which the Yemeni fighters did not have. However, some informed sources said that the Yemeni authorities have denied travel to many people to Syria and that orders have been issued that newly issued passports mainly for ordinary workers should be monitored. "The Yemeni government is very sensitive to this issue which would embarrass it before the US with which it is having good cooperation, mainly in the war on terrorism." said one of the Yemenis prevented from leaving.
Even though a few dozen Yemenis may not be of great significance in the overall outcome of the war, the greatest fear of US and UK forces is resembled in what is now called "unconventional" fighting, which may range from sniper shots to suicidal attacks.
This comes after U.S. troops staged a foray into Baghdad for the first time on Saturday, taking the 17-day-old war to topple Saddam Hussein right into his battered capital.
The Iraqi president, in a message read on television by a minister, urged his armed forces and people to step up attacks on the U.S. and British invasion forces.
"The criminals will be humiliated," the message said. "To hurt the enemy more, raise the level of your attacks."
Iraq denied any U.S. forces were in Baghdad and said its troops had driven the Americans from the international airport ) a claim that a U.S. military spokesman said was groundless.
U.S. military sources said at least 20 Abrams tanks and 10 Bradley fighting vehicles had rumbled up a southern highway through Baghdad's Dawra suburb before swinging west and linking up with troops at the airport southwest of the city center.
A Reuters correspondent who drove freely around the sprawling city of five million later in the day saw no sign of U.S. forces in areas he visited.
U.S. Major-General Victor Renuart said the incursion had been a "clear statement of the ability of the coalition forces to move into Baghdad at times and places of their choosing."
He told a news conference in Qatar such operations would continue, adding: "This fight is far from over."
Information Minister Mohammed Saeed al-Sahaf, reading a message he said was from Saddam, said invasion forces were concentrating on Baghdad, but weakening elsewhere in Iraq.
Iraqi television showed footage on Friday of a smiling Saddam touring Baghdad streets, greeting admirers as smoke rose in the distance. It was not clear exactly when the footage was shot.
It is feared that the street war that could continue in Baghdad for a long time would lead to a severe humanitarian disaster for the 6-million residents of Baghdad. Already hundreds of families were reported to have escaped the city which is slowly turning into a battle field with the most devastating conventional weapons on earth.
——
[archive-e:630-v:13-y:2003-d:2003-04-07-p:front]