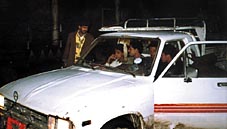 As Some Signs Show That The Disarmament Campaign Is Over IS THE GOVERNMENT SINCERE IN ITS CAMPAIGN? [Archives:1999/36/Front Page]
SANAA: After the wise decision of the Interior Ministry to ban the use and carrying of weapons including the licensed in the major cities, citizens welcomed the decision hoping that it will truly lead to the abolishing of weapons in Sanaa and other main cities. However, not even one month has passed until we hear that the checkpoints and other weapon monitoring units were lifted. Citizens have shown great encouragement to the implementation of the law, but it has yet not been fully implemented. 
The speculations suggest that the latest incident (read more on report page) that resulted in the murder of Yahya Hameed Al-Kharashi, and another policemen was the last in a serious incident which made the government raise the white flag of surrender. Is the government giving up the efforts of disarmament in Sanaa? The weapon campaign could have been the most effective if it had also accompanied the banning of arms trade outside the capital. Measures to close all sources of weapons should go hand in hand with the abandoning of arm carrying. Yemenis are still having the hope that the Ministry of Interior is not giving up because of these pressures. The mission of disarmament has a noble objective. That is to secure a safe life for all our people by collecting the weapons in the hands of the ineligible, which we hope that one day, will be reached.
——
[archive-e:36-v:1999-y:1999-d:1999-09-06-p:./1999/iss36/front.htm]