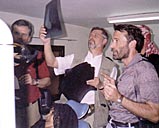 Austrian Tourists Doctors Visit Some Hospitals in Taiz [Archives:1999/07/Governance]
In spite of the recent kidnapping and terrorist incidents, tourists are still coming to Yemen. An Austrian tourist group of 18 tourists has recently visited Yemen. They visited Sana'a, Hodeidah, Ibb, and Marib. Among the group, there are 6 doctors. In cooperation with the Yemeni-German Friendship Association, Taiz branch and clinics in Taiz like Al-Buraihy Hospital. The doctors, some of them are heads of hospitals, were very much interested in getting some information about the state of health services and treatment in Yemen. They were also desirous for helping some patients. With the help of some Yemeni doctors, they made some diagnosis for some cases. The doctors were anxious about health services and conditions and said that they would try to offer some medicines to some hospitals when they are back home. They said that they are ready to offer technical services and this visit will keep the two sides in contact for that purpose.
Friendly People
Expressing his impression about Yemen, Mr. Rudolf Forg, leader of the group, told Yemen Times: "Yemen is a very interesting country. It is not overcrowded by tourists but hopefully they will come soon for Yemen is a new country for us. We, tourists, can find in Yemen what we don't find in any other countries. I have been to many countries including Arab, but I am very arrested by the scenery and atmosphere of Yemen. People are very friendly and not shy against tourists. They like us and let us feel that we are their friends. This is very important for people to know that we want to bring our money here so that we can get a better life for all people here. What I liked is the little kids when they hail to and run with us. Besides, it is through tourism that you are getting better hotels. The food is excellent. We had our food with the people because this is the only way to know the people truly. We had a new experience".
Developing Tourism
Asked about the way to develop tourist drive in the country, Mr. Forg said that the key factor to push tourist drive forward is that the government should ensure the safety of the tourists. "I had a group of 28 tourists who were interested in coming to Yemen. But when they heard about the latest incidents they felt afraid. We said it dangerous all over the world and 18 decided to come and most of them are doctors. I said that I must see Yemen now since it is completely new. Therefore, I decided to see it before a big number of tourists come to it. For example, 'sooks', markets, will be commercialized after some time and this is what we don't want. So, I should say that if anybody wants to go to Yemen, he/she should go now." At another level, the tourists said that they had no trouble in touring at all. They said that they had a guard but they went to some places without him. It was very normal.
Mr. Forg added "For me this is the beginning for I will come with other groups as I liked Yemen very much".
By: Mohammed Hatem Al-Qadhi
Taiz Office Editor
Yemen Times
——
[archive-e:07-v:1999-y:1999-d:1999-02-15-p:./1999/iss07/govern.htm]