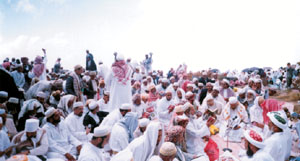 Bohras Marks Idris Imaduddins Anniversary [Archives:2002/06/Front Page]
About 2,500 members of Bohra community converged on Shebam (the highest peak in Haraaz) from all over Yemen, to celebrate the anniversary of one of the most prominent Fatimid leaders, Idris Imaduddin on February 2, 2002. Idris lived in the ninth century of Higra and died in 872.H. He was a great scholar and one of Yemen's great historians. His works are significant in Yemen's history in particular and Islamic history in general. He was a man of great vision. His eloquent poetry proves his mastery over Arabic language and literature. The celebrants prayed their homage to this great man and recited Qura'an on his behalf.
Salman Rushdi, Mandoob Dai Fatima Sultanual (the representative of Dr. Syedna Mohammed Burhanaddin- the present Dai dealt with many subjects in his speech. He mentioned the great achievements of Dai Idris. He recounted the martyrdom of Imam Hussein. He also said Shebam along with other great peaks of Haraz were great centers of learning in the Fatimid Dai's times, not just garrisons for soldiers. He said Dr. Syedna Mohammed Burhanuddin had advised his followers in Yemen to uproot their Qat trees and clean their land from this evil and they had responded in earnest. He has helped them by providing viable alternatives like training them on bookkeeping, animal husbandry and by giving them samplings of coffee and other fruit trees such as almond and olive.
at the end of his speech he lauded the tremendous achievements of the President Ali Abdullah Saleh and his government. Mr. Rashed prayed for him and thanked him and his government for bringing democracy and unity and protecting the country from all its enemies.
——
[archive-e:06-v:2002-y:2002-d:2002-02-04-p:./2002/iss06/front.htm]