Bordering Saudi ArabiaSadah's rich history, current challenges [Archives:2005/813/Reportage]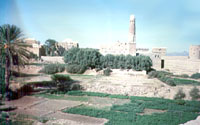 By Irena Knehtl
For the Yemen Times
The Yemeni geographer AlHamdani writes about the Yemeni region of Sadah as having among the best wadis, horses, fruits, grapes and animals in the region. It's also known to have some of the most fertile lands in Yemen.
History
The Yemeni geographer Hassan AlHamdani (ca 900 AD) writes much about the city of Sadah and its surrounding. From him, we now that Sadah used to be known as Yemeni region well before Islam.
He writes further that Sadah lies in the middle of Qaraz region. Qaras is an Accacia tree from which juice and the gum "Arabicum" used to be extracted.
And finally it is being said that in the surrounding of Sadah are some of the best wadis with horses, fruits, grapes, and much animals. AlHamdanis writing are the earliest recordings about Sadah region.
The city itself was built on a spot of a pre-Islamic Yemeni kingdom. Sadah used to be of strategic and political importance to the Yemeni pre-Islamic Kingdom of Main, a role the Governorate of Sadaha continues to play for modern Republic of Yemen.
Next to the city of Sadah begins the opening of Wadi Najran, which runs from west to east and flows into Empty Quarter. The region is a natural road leading to the north.
Lying as it does on a plateau at some 2000 m high, Sadah used to be in the past an ideal meeting point for caravans which arrived from ancient Marib and Main and then proceeded to the north. Since ancient times gold and iron mines were reported to be were found in the region. The region of Sadah has been continually inhabited over two thousand years.
The Islamic history of Sadah starts in 897, when Imam Yahya Ibn Hussein AlHadi made Sadah his capital. At the rise of Islam, the Yemeni province Sadah was a flourishing trade center.
The region is also known for its castles, palaces, ancient watch towers along the "pilgrimage route". The best known ancient route passing through the region of Sadah used to be the frankincense trail, and in Islam the Yemeni pilgrimage or Haj route.
Several pre-Islamic and early Islamic documented sites consist of stone structures, cairn, tumuli, camping stations, praying places, mosques, water reservoir, and wells, some of these are still in use.
Also rock paintings and graffiti showing human and animal figures. They suggest that the route was probably established during First Millennium B.C. and continued to be used, both for trade and pilgrimage from pre-Islamic period well into the late Islamic period.
Sadah today
The main road between Sanaa to Sadah passes through a stony desert-like region scattered with green, irrigated fields, and with watch-towers and grain stores dotting the landscape.
Past Khamir and Huth, the road turning west leads towards the broad Wadi Lissan. North of Huth, the main road toward the city of Sadah continues through Al-Harf crossing a desolate – but beautiful – landscape of lime stone pavements pierced by volcanic stones. In the mud walled villages on both sides of the road many of the houses are painted with ochre stripes.
Settlements in this area would be constructed where seasonal rains or ground water can sustain cultivation and are traditionally build of zabur, layers of coarse clay mud, and libn, sun dried bricks, both derived from alluvial soil.
The color of the houses thus harmonizes with the countryside around. The clean white and dozens of vivid colors that make the regions home so distinctive, have long been prepared by women.
In the traditional house, women are responsible for plastering and painting of walls, corridors, and ceiling after men finish building them. An uniquely expressive interiors, and elaborate geometric patterns, and color combinations.
Traditional architecture of Sadah region is characterized by the four to six stories houses, palaces and castles build with mud. The thick walls are built with mud, while the narrow doors and high window were made for the purpose of security and defense, and to keep the temperature moderate throughout the year.
The historic city
The administrative center of the this Yemeni governorate is a historic city, 243 km north of Sana'a, situated on a green and fertile plain, an important tourist site. It lies 2261 m high above sea level.
Named AlJuma in the past, the historic city of Sadah, is located at the foot of Thalmas mountain, on which is an unconquered castle. The historic city of Sadah is surrounded by a fortified wall.
Built in 16th century, it has 52 towers and four gates, Najran, Swedan, Mansourah and Hamdan. The wall is 3.326 m long and 8 m high, inside the wall are 16 staircases. The Al-Hadi mosque built in 9th century is considered among the oldest and most beautiful historic mosques in Yemen. It includes tombs, valuable manuscripts and books.
Interesting to see is also the near bye Islamic cemetery, many graves have Quranic and poetical verses.
The city today seems as freshly scented like a light mountain breeze carrying the scent of perfumes. As in the past the Sadah market used to be the place where members of different tribes and caravans met not only for trade, but also to discuss crops, business prospects, politics and marriage.
Even today it retains these social and economic functions, though adopted to modern economy. A bustle of cars, pick up trucks, and people, all of which had been converging since the end o dawn prayers. In the market of Sadah, the most eye-catching are the people from north of Sadah, where man often wear bunches or garlands of sweet – smelling flowers about their heads.
Their bright, multicolored sarongs like futta is a colorful contrast. Silver jewelry, rings, amber necklaces, heavy bracelets, enormous anklets, herbal medicine, the markets are organized by trades and loosely arranged in section, as it has been since time immemorial.
Merchants of vegetables, fruits, livestock, clothes, shoes, toys, candy and a variety of local tailored coats of goat and lambs wool. Merchants sitting cross – legged next to each other, daggers, silver jewelry, straw baskets woven from palm fronds, decorated with geometric design with natural dyes of red, turquoise, and burgundy.
Welcome Cardemon! Without weight, Without Measurement! This is how guests are greeted in this Yemeni region. Scattered around Sadah but united by common architectural style of the region, surrounded by gardens of grapes, pomegranates, fruits are some beautiful villages, in particular, Al-Talh, AlAbdainn and Rabban.
Villages dotted with brightly white painted mud-brick sky scraper houses are an attractive architectural feature of this Yemeni region. It is mentioned in writings that besides an important trading center, the Sadah region is an important agricultural area, as evident from the dams, and a wells and a well developed irrigation systems.
The Sadah plateau is among the most fertile in Yemen with farmers growing black grapes, pomegranates, peaches, apricots, figs and others fruits. With an altitude of 1800 m above the sea level, it is one of the highest Yemeni flatlands where fruit is grown. Eastern Sadah, in particular, has high mountains and inner deserts with a number of fertile wadis flowing to Empty quarter desert.
The Sadah region has long been known manufacturing center for good quality iron works, in particular agricultural tools, ploughs, leather tanning tools. But also utensils from stone, palm leaves, and minting of coins.
Tribes
Upper Yemen is dominated by a series of major tribes. With the exception of Khawlan b. Amir, five tribes around Sadah, most of these belong to one or other of two famous Yemeni tribal confederations Hashid or Bakil. The tribes were an important source of armed strength throughout the Islamic period and they remain so today.
The tribesmen are mainly villagers, who grow sorghum, barley and wheat by "dry" (rain – fed) cultivation. On the other hand there are a few areas of cash-crop cultivation on the plateau, notably, the grape plots of the Sadah region.
Most tribesmen, though are, grain farmers, who produce largely for their own use. However, to assess the productive potential of the land is not easy. Plainly, however, we are not, and never were, dealing with the kind of surplus production to be found in Lower Yemen and the West.
Land, however, has gone out production.
The region of Sadah has some of the most fertile land in Yemen. It used to have sufficient water supply from its relatively rainy season and large under ground reservoir. The people of Sadah have lived off their farm and animals, and have enjoyed semi-independent lives and a very loose social and political structure for centuries.
Modern challenges
The challenges at hand are how to play a role and contribute to local, national and in turn regional economy and how to make a difference. Along with the opportunities generated by modernization and globalization some challenges that must be faced, the loss of traditional markets, increased competitions from imported goods, changing attitudes towards traditional life styles and modes of productions along with rapidly evolving cultural expectations have lead to a decline in traditional crafts and often social status.
The challenge here is working hand in hand to take advantage of emerging commercial opportunities, in particular, for traditional crafts, representing this regions identity and originality, that of an Arab Islamic identity, and pass such skills to future generations with pride.
The challenge here is to make modern times an instrument of opportunity and inclusion, and not fear and insecurity. Rural areas such as Sadah need first to think about quality and quantity of food supply, road for commerce, improved method for irrigation.
Further building of essential infrastructure, provision of services, such as electricity, health and education in order to make life more comfortable. They need capital for packaging plants for their fruits and dates and other productive capacities.
To explore and tape domestic and regional markets for their fruits and vegetables.
To endure harsh times – or even benefit from them – it is essential to tape that deepest stratum of personal identity, that which is deeper even than fate, and which is incorruptible even by harshest realities.
It is essential in order words, to tape the well spring of human endurance: hope. And to keep in mind that failure – the final taboo in modern society – is but one part of the inevitable cycle of life for those who dare to live full and completely. Somewhere beneath the distress and loss, is a reserve of strength that has been building for this kind of opportunity enabling to focus on positive.
Local government
In this respect the local government experiment in this Yemeni region should be viewed as important success. It aims to further improve governance and it is working towards possibilities of opportunities and further provision of basic services.
The governorate of Sadah has been increasingly covered by a network of modern roads, out of which the most important will be the completion of Razih ring road.
It will enable further opening of economic opportunities for the Sadah governorate.
The programs include a food security program, a small scale project program, a micro irrigation scheme program, and the important water supply project for the city of Sadah.
A program fur further provision of electricity, communication, health and educational facilities for the governorate as a whole.
Particular stress and importance is given to technical training programs, and educational and training program for women.
Exploratory works are being carried out at Huraigah zone, in the northern part of the governorate for gold, nickel, copper and cobalt ores. It will be further important to explore economic feasibility for possible mining and investment.
The region has excellent tourism potential, in particular for cultural tourism.
Investment opportunities for innovative local and foreign investors thus lie in the fields of communication, transport and telecommunication, tourism and tourism services, mineral exploration. In upgrading of husbandry, packaging plants for fruits and dates, and other productive capacities.
Sadah governorate at a glance
– The Yemeni Governorate Sadah lies in the north of Republic of Yemen. It is bordering on Kingdom of Saudi Arabia. The administrative center of the governorate is the historic city of Sadah, 243 km north from Sanaa.
– The relief of the Sadah governorate is varied, as is its population. Mountains, towns, villages, plains, glass lands at the eastern part of the governorate. High mountains to the north and west, such as Khawlan, Baqim, and Razih mountain (2.800) that are linked to the Jumah mountain chain, the Hamdan mountain range.
– Several wadis intersect the mountains, of which the most important are wadi Saqain, wadi Nushour, wadi Badr, wadi Dhamad and Alaf and wadi Abdayn. There are remains of Himyrite dam which was in use up to 9th century AD. The western chain of mountains from the south starts with mountains of Khawlan Bim Amir (2800m), AlKarb, AlMuftah, Marran, AlJomah, Haydan, Wair, AlManar and Haysh mountain.
What to see
– The historic walled city of Sadah, one of the most beautiful historic cities of Yemen
– A number of interesting forts, such as AlSinara, Sama fort, Tulmus fort and AlAba fort, Razih fortress and Humrun to the north west.
– Um Lailah mountain, some 20 km off Sadah, which probably used to be an off splinter of the caravan road Aden-Sanaa-Sadah-Mecca-Gaza is the most important of the forts and castles. This significant archeological site contains stone paved roads, reservoir, grain stores, and defense construction such as towers and fortified walls. There is only one road leading to the fortified city, and a breath taking scenery awaits the visitor.
– A trip to Razih mountain is rewarding for its breath taking scenery.
– Sadah is also an area, which boasts a large collection of ancient rock paintings and signs dating back to hunters gatherers society. In the mountains area caves and rocks, full of inscriptions and paintings of goats, hounds, cows, snakes, plant and geometrical shapes. The two areas that are rich in painting and rocks are Al-Khaza, some 15th km to the north – west of Sadah, Om Lailah and Musalhaqat, 20 km to the north west of Sadah.
– The large number of discovered inscriptions suggest that the region was an important station for trade of caravans. A number of rock art painting date from 7000 B.C. to the early Islamic period. As result of investigation we now have important information of the life style of the people of that period, such as dog was domesticated at that time. While camels, cows, goats and ostriches were hunted by long lances and with bow and arrow.
– Al-Kazain rock graveyard, some 15 km north west of Sadah carved in the mountain. It has a square door leading to rooms, which are about 20 square meters each. The rooms are similar to those at Shibam Kawbakan. And a 8 m deep and 4 m wide reservoir.
– Other places worth visiting in the Sadah governorate are Haidan Baqim, Wadi Nashurm, Razeh mountain, Waela Sehra, Ghuraz and AlBuqa
– A number of markets are held at different parts of the Sadah governorate on different days. The largest at AlTalh, a 10 km ride to the north of Sadah held normally every Sathurday.
– The Sadah governorate is also famed for art, music, folklore, oral poetry, silver jewelry and handicrafts
– In year 2000 the Northern border agreement with Kingdom of Saudi Arabia was signed. Al-Buqa is the border crossing with Saudi Arabia, located north east of Sadah.
——
[archive-e:813-v:13-y:2005-d:2005-02-03-p:report]