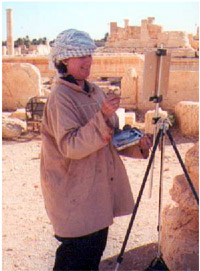 Caroline Lees: Portraying Yemen's Beauty in Oils and Water Colors [Archives:2001/45/Culture]
Karen Dabrowska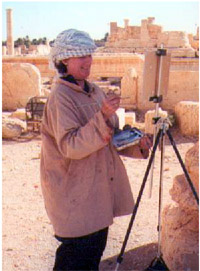 People who have never visited Yemen and are unlikely to do so are buying water and oil paintings from Hadramaut because they are fascinated by the region's unique charm and beautiful scenery.
That is what Caroline Lees discovered during her recent exhibition at the Rafael Valls Gallery in London.
Yemen, especially Hadramaut, featured prominently in the exhibition "London and the Orient", in which approximately 100 paintings were on display. The gallery was positively surprised by painted scenes from Yemen and other Middle Eastern countries, including Oman, Jordan, Libya, Syria and Tunisia and has asked Lees to hold another exhibition at the venue in two years time.
Lees, 61 year old, first started visiting Yemen in the 1970s where her husband, a defense attaché in the British Embassy in Jeddah, also covered North Yemen. Her first solo exhibition was held in Oman in 1986. She returned to Yemen in 1998, 1999 and last year, and was planning to take six British artists on a painting tour to both the North and the South in January 2002. But the trip, although postponed, will go ahead sometime in the future.
Last November she was one of the organizers of an exhibition of Yemeni art held in London's Kufa Gallery.
"September 11 has definitely put a slight damper on things – what else can you say?" The 61-year-old grandmother of five is planning to make a trip to Morocco with another artist in early spring, while the Far East and Spain are also on the agenda.
She only paints when she is attracted to something. "It has to catch my eye and spark something in me." Some paintings can be finished after two visits to the site while others are completed from sketches or with the aid of a photograph. But Lees insists on being there before picking up her paint brush. "A photo on its own is not sufficient."
Painting in Yemen can be easier than painting in London where permission often has to be sought. "The locals watch fascinated and my smattering of Arabic is just enough to pass the time of day and exchange a few words with them."Her works from Yemen, among them Shibam in Wadi Hadramaut, Sif in Wadi Do'ane, the Palace in Seiyun and the grand mosque in Sana'a are exquisitely framed. Lees talks of Yemen as "my big love" and has developed a fascination for the rich variation of light and landscape of the Middle East.
Born in Shropshire, Caroline Lees comes from a family of artists and her daughter has followed her footsteps.
She studied at The Corcoran Gallery School of Art in Washington, DC and was selected for master classes in oils at The Slade School of Art, London. There have been several one-man shows and she has been on exhibits widely in the United States, the Middle East and the UK, including the Royal Academy Summer Exhibitions, the Mall Galleries, RSMA, and The Mathaf Gallery, London.
She has also had one book published: "Caroline Lees' Watercolors of Shropshire" and her work has appeared as prints, cards and illustrations. It can be found in many collections, including that of the National Trust. In 1986, she was commissioned to paint a watercolor for HRH Prince of Wales' visit to Oman.
Her latest exhibition was sponsored by a private bank, Adam & Company.
——
[archive-e:45-v:2001-y:2001-d:2001-11-05-p:./2001/iss45/culture.htm]