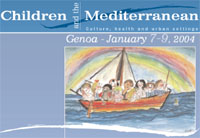 Children and the Mediterranean conference in Genoa, Italy indicates:Yemen's future in danger [Archives:2004/702/Health]
By Yemen Times Staff
Genoa, Italy
In a conference held in Genoa, Italy during 7-9 January entitled "Children and the Mediterranean", Yemen was ranked on top of the list of countries in the Middle East and North Africa (MENA) in dire need of assistance in enhancing the standard of living of children, who are the pillars of the future.
Present at the conference was the Governor of Aden Dr. Yahya Al-Shuaibi, who told the Yemen Times that Yemen indeed needs to carry out urgent massive reforms and exert greater efforts to tackle with the issue of children. He noted that Yemen, which ranks the worst of all MENA countries in terms of children's literacy, health services, social protection, education, etc, is trying with the limited resources it has to improve conditions of Yemeni children, but it is time to reach out to the international and donor community for help.
Dr. Al-Shuaibi added that despite limited progress in Yemen and the Middle East and North Africa (MENA), there is a lot more to do, and there is need for more resources and training.
Second event in a series
The event was the second conference on this subject following the "Children in the City" conference held in 2002 in Amman, and will be followed by an event to be held in Dubai in 2005.
The conference was organized by the Italian Gerolamo Gaslini Foundation and Genoa the Cultural Capital of Europe 2004, and sponsored by the World Bank, the Arab Urban Development Institute, and Lynkeus.
Priorities for Yemen
The Yemeni delegation also included Dr. Abdulrahman Ishak, member of the Pediatric Department of Sana'a University's Faculty of Medicine. Dr. Ishak said that the "conference was an eye-opener to make us know how the world views the Arab world in general and Yemen in particular. It also showed us how desperate our countries are in terms of need for support for our cause, and to stop the vicious circle of poverty and disease that are haunting our children day and night."
Dr. Ishak added, "On behalf of the Yemeni delegation, I tried to convey to the donors and organizations present in the conference, including the International Pediatric Association, the need to bring forward practical steps to approach and solve the many problems we face in enhancing the conditions of our children. It would be much better to propose straight forward implementable solutions rather than describing our region's suffering through statistical indicators that we heard over and over again. We must start analyzing the reasons behind those numbers to remedy them in a proper way through action-oriented solutions. We can conclude those solutions through extensive communications with regional support centers, which are always ready to help."
It's not a matter of money only
Responding to a question about whether he meant financial assistance, Dr. Ishak said, "It is not about money, but rather about well-designed assistance programs that are suitable for our circumstances and feasible and that would prevent mothers from dying in villages because of lack of medical services, and help that would prevent brain damage of children who reach hospitals hundreds of kilometers away too late after suffering from suffocation."
"We want to avoid cases of Yemeni patients that are taken for medication abroad and who return in coffins after they suffer from the inability to continue treatment due to high financial costs. We want to find solid solutions to save lives of thousands of patients without exposing them to humiliation and high costs of treatment abroad.
We need to upgrade the practice of medicine in the country, to remove the distrust between patients and local doctors, and to bring affordable health services to the community." he added.
E-Health: A possible solution
Dr. Ishak believes that an immediate action to prevent further sufferings of patients in the country due to lack of quality health services could be the introduction of E-Health, which was one of the topics of the conference.
"E-Health is an immediately feasible and low-cost factor that could have a substantial positive influence on health standards of children and families in Yemen." he said.
"It is more economical and efficient to send samples from the patient for analysis electronically and in return wait for the diagnosis in a record time via the Internet or other means of communication." he added.
Awareness first
As for how that can be achieved, Dr. Ishak explains, "We first of all must raise the awareness of the public by different means such as the media, posters, educational material, etc. to inform them of the alternatives resembled in E-Health and tele-medicine, which would save them the time and money of going abroad. Once awareness is there, it would be much easier to convince intellectuals and interested bodies to carry out the job of sending samples to contracted reliable clinics and doctors abroad to receive appropriate diagnosis and advice. "
Dr. Ishak also stressed on the need to have a governmental role alongside that of the private sector to work together in forming bridges between patients and doctors and specialists abroad.
"The conference has rightly indicated that E-Health and telemedicine could be a viable solution for a variety of cases. I believe Yemeni patients, particularly parents of ill babies and children should be given the chance and choice to decide on the best alternative and go for it. It should be obligatory for consultants to give patients a chance to learn a second opinion."
Among the issues discussed in the conference was the maternity mortality rates, which are quite high in Yemen, and means to lower them. Dr. Ishak revealed that the most important factor in lowering deaths of children and mothers is to have better equipped emergency facilities and train local staffers to handle first aid of emergency cases.
"As much as I want to thank Italy for organizing such an important conference, as much as I would like to urge them to help Yemeni children live a healthier life by assisting Yemen in training staffers and providing basic facilities for the pregnant and vulnerable babies. Besides sending medical delegations to do complicated surgeries here in Yemen, I urge them to focus on equipping and training emergency teams to prevent severe damage to patients, who otherwise would need to be operated upon. Such assistance will definitely have long-term benefits which would be instrumental for the country's future. After all as they say, giving fish is good, but teaching how to fish is better." Dr. Ishak concluded.
Frightening numbers
Many of the speakers in the conference called the numbers representing standards of health, education, etc of children in the MENA region as 'staggering' or 'frightening'.
But the case of Yemen is the most frightening of all. The statistics reveal the misery of Yemeni children as Yemen holds many records that can be summarized in the following.
1) Yemen has the lowest children education level in the MENA region with just 49% of the population receiving any education at all. Furthermore, 35% of children are not receiving any education and may grow up as illiterate citizens.
2) Yemen has the lowest ratio in MENA in terms of early childhood care and education with just 0.9% of preschool children receiving any health care or education.
3) Yemen has the lowest school-life expectancy among all MENA countries. By average, Yemeni students remain in school just for 8 years. The numbers are even more staggering for female students, who stay in school for an average of just 5 years.
4) Yemen is the only MENA country that witnessed an increase in child labor, as the country witnessed an increase of more than 40,000 working children from 1995 to 2000.
5) Yemen is the fastest growing country in MENA and the world in population, with an annual growth rate of more than 3.5%.
6) Among all MENA countries, Yemen has the highest percentage of under-5 population, i.e., 21.2% of Yemenis are children below 5 years old.
7) Yemen is the youngest nation in MENA, and possibly in the world as citizens less than 15 years old constitute around 50% of the population. Furthermore, Yemenis below 18 constitute 56.4% of the population, while more than 60% are below 20 years.
8) Yemen has the highest fertility rate in MENA. On average, Yemeni women give birth to 7 children. Cases of up to 15 children are widely reported.
9) Yemen has the highest MENA member in infant mortality rates with an average (during 1960-2001) of 150 of every 1,000 babies die in their first year.
10) Yemen is the MENA country with the highest percentage of low birth weight rate, exposing them to higher possibilities of neonatal mortality and disease. 26% of Yemeni children are born with weight below 2.5kg.
11) Yemen is the MENA country with the highest level of underweight children aged under five. With 46% of under-5 Yemenis suffering from underweight, Yemen is almost double the closest country, Oman with 24%, in this respect.
12) Yemen has the highest rates in MENA in terms of malnutrition rates of under-5 children, as 52% of those children suffer acute malnutrition.
13) Yemen is the least MENA country with the rate of families consuming iodized salt. Just 39% of families have access to such salt that prevents mental retardation.
14) Yemen is also the least MENA country with maternal care, needed for the safe delivery of babies. Only 34% of mothers in Yemen receive this care.
15) In the MENA region, Yemen is the least in the percentage of skilled attendants available at delivery as 22% of births in Yemen are attended by skilled persons.
16) Yemen is by far the highest in MENA in maternal mortality ratio as 370 mothers of every 100,000 live births die during delivery.
17) Yemen is the least country in MENA in use of contraceptives, as women using contraceptives constitute just 21% of Yemeni women use any sort of contraceptives.
18) Yemen is the lowest MENA country in terms of physicians per 100,000. There are only 22 physicians for every 100,000 in Yemen, making decent family care virtually impossible.
19) Similarly, Yemen is also the lowest MENA country concerning the number of hospital beds per 100,000 citizens. In Yemen, there are only six beds 6 for every 100,000.
20) Finally, Yemen is the MENA country with the highest out-of-pocket health expenditures. In Yemen 61.1% of total expenditure on health is considered out-of-pocket health expenditure.
Economy and social indicators also pathetic
An interesting conclusion of the conference was that governments with poor child care indicators, including Yemen, suffer from poor economic and social performance, which directly affects the quality of life of regular citizens, particularly children, because they are the most vulnerable element and weakest link in the community.
However, on the other hand, children with no proper care or education, and those suffering from psychological stress, etc, may not have the full capacity in building the future of the country. The conference came out with indicators showing that Yemen was also at the bottom of the list economically as they show that Yemen is:
1) By far the lowest MENA country in GDP per capita with an annual $790, compared to the second lowest country, i.e., Syria with $3,280.
2) The highest country in MENA in percentage of the population living below poverty line (receiving less than $1 a day) as more than 15.6% live in extreme poverty. The closest Arab country to Yemen in this regard is Egypt with just 3.1%.
3) The MENA country with the highest level of overall poverty with an indicator of 67, i.e., 41% of the population suffers poverty.
4) The lowest ranking country in MENA in the Human Development Index (HDI) as it ranked 148.
5) The MENA country with the least percentage of population with access to adequate sanitation facilities, as only 38% receive such facilities.
6) By far the least MENA country in number of radios (64), TV sets (29), telephones (22), mobile phones (8), computers (0), Internet access (0.1) per 1,000 Yemenis. The conference stressed on the media's role in raising awareness about development-related actions.
7) The MENA member with the lowest life expectancy rate of just over 57 years. Yemen's healthy life expectancy is also consequently the lowest with just over 45 years.
8) The lowest country in MENA in terms of urban population, as only around 25.4% of the population lives in cities. The closest MENA country to Yemen is Egypt with around 43%.
Aden Governor: Steps to be taken
In a session on the MENA Child Protection Initiative in the conference, in which Dr. Shuaibi, Governor of Aden was a speaker, a special emphasis was given to the importance of setting an agenda for mayors and governors to enhance children's right.
Dr. Shuaibi pointed out to the problems of Yemen including the 44% of children not able to enroll in schools. "A large percentage of Yemeni children is unfortunately deprived from education, abuse, health, and many of the rights that they deserved.
Yemen was unable to provide the needed resources for children, and neither were civil society organizations, who did not cover this aspect adequately, including vulnerable, orphaned, disabled, refugee, street children, plus young females undergoing violence.
We, in Aden are willing to do our best with the resources we have to deal with this issue in the best way we can. But you can imagine how difficult a task it is especially as we have to take into account the difficult geographic terrain, the complex demographic structure, and various social classes of the country, which is composed of 20 million people with 190,000 population blocks. Nevertheless, we will continue in our efforts in this regard."
Conclusion: Deeds must follow
In the last day of the conference January 9, the draft of the conference resolution stressed on the importance of helping countries helping themselves by pointing at the most important priorities needed to be tackled.
Yemen to receive priority
In response to a Yemen Times question about whether Yemen will be receiving priority among other MENA countries in economical, consultation, and medical support, Mr. Bruno Musso, the head of the organizing body of the conference, said, "We are indeed aware of Yemen's needs, and are committed to give it priority due to its many needs."
The next conference to be held in Dubai is expected to focus more on Yemen as one the countries of dire need of support and assistance.
——
[archive-e:702-v:13-y:2004-d:2004-01-12-p:health]