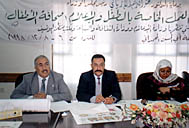 Children & the Media [Archives:1998/51/Culture]
The Ministry of Culture and Tourism sponsored a three-day workshop on children and the media at the Ministry's premises. 
The workshop included lectures and commentaries in addition to working papers and discussions and concluded by UNICEF's report on situation of children in the world in 1999. 
One of the prominent papers tabled at the workshop called for promoting education of females through various means of encouragement. 
The paper advocated role of the media in elevating percentage of female education in addition to spreading public awareness among Yemeni families of its importance on future of the females. 
It called for field visits in the country to study the 83% illiteracy among women, including meetings with parents and school directors in addition to educated females. 
The researcher also called for interviewing illiterate women and shedding light on their negative and positive opinions towards educating their daughters. 
The paper then advocated the convening of seminars covered by the press to be attended by leading officials from the Ministries of Education, Information and Endowments to review reasons for that problem and proposed solutions. 
Khayriya 
Al-Shibibi 
——
[archive-e:51-v:1998-y:1998-d:1998-12-21-p:./1998/iss51/culture.htm]