Christmas myths unwrapped [Archives:2006/1010/Reportage]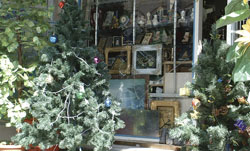 Dina Al-Ameena
After being in Yemen for a year now, away from my home in USA, I'm spending my second Christmas here. Since I was sick and home alone last year, this one had to be better and so far, it is. I've broken out the Christmas music and added to my meager collection of Christmas decorations so that my house now looks properly done up. Amazingly, I've even seen Christmas trees for sale in some Yemeni toy and home decorating stores!
As the holiday season approached, I wondered what, if anything, Yemenis and Sana'a residents actually knew about Christmas, how it's celebrated and the story behind it. I had heard others say what their friends say, but I wanted to find out for myself and what I discovered was truly saddening, especially regarding such a blessed and holy occasion. So, read on for what I discovered on the streets of Sana'a from average Yemeni folk:
According to graphic designer Ramzy Al-Saqqaf, "Christmas celebrates Jesus' birth. It's a respected occasion, but I never observed it. It's also a great occasion to congratulate Christians."
"I think Christmas is tied to the idea of wild parties where people do whatever they want, but I never checked if this was fact or fiction. From the movies and television, we saw where they have the first kiss of the new year."
"To celebrate, Christians gather, often traveling long distances to be together, and eat a big feast with a stuffed turkey, so it's kind of equivalent to Eid Al-Fitr or Eid Al-Adha." He added jokingly, "I don't believe in Santa Claus!"
Mohammed Bin Sallam also mentioned the partying idea, "The new generation of Yemeni youths gather with Christians and celebrate at parties on Dec. 24 and 31, drinking until morning."
Social researcher Anwar Mughram responded that Christians spend the week of Dec. 24 until Jan. 7 celebrating Jesus' birth, which was Dec. 24, "so it's similar to our eid because it is spread out."
"They celebrate by gathering with friends, playing games with children and Santa Claus gives gifts to the children." However, he's never celebrated the holiday with anyone. "Yemenis in general think Christians do bad things on the eid day, forbidden things like drinking and having improper relations with each other, so they have a negative idea about it."
He proposed, "Maybe we can change this idea, but who can give us the right idea? The media, doesn't give us any information, especially in Yemen, so it would be better if English and Arab newspapers to share ideas. Even Christian ambassadors don't play any role in this. Why don't they hold workshops to share ideas and change these ideas?
"Due to the negative ideas about Christmas, if I thought to celebrate it with Christians, other Yemenis would think negatively about me. We need to change this," he concluded.
Myth #1
The most prevalent Yemeni belief is that Christmas involves celebrating the New Year, which is Jesus' birthday. Christians hold wild parties, drinking alcohol and eating until midnight, when they kiss to begin the New Year and then do whatever they want, including having sexual relations with each other.
Christian facts
Having been a Christian for nearly 20 years now (after believing while at university), I can affirm that Christmas has absolutely nothing to do with New Year's, as the former is a religious holiday celebrating Jesus' birth while the latter is a completely secular celebration often depicted in movies or television, involving men and women drinking alcohol, dancing and sharing the first kiss of the new year at midnight. Christmas is observed by true Christians (and by many who may call themselves "Christian" but who aren't religious at all, see Myth #3 below), whereas New Year's is observed by any secular individual.
Regarding Jesus' birthday, no one knows exactly what date it was, so when the Italians created the Gregorian calendar, Christmas was set on Dec. 25. The same calendar also determined that the new year would begin on Jan. 1; thus, it has nothing to do with being Jesus' birthday.
What people say
Wahib Hassan Noman, manager of the American Language School, said he believes the coinciding of this year's Christmas and Eid Al-Adha celebrations is from God and thus, a good opportunity to wish each other goodwill and not focus on differences or strife. He believes Christmas is a time when Christians wish each other well and put away all bad feelings about each other.
Myth #2
Christians celebrate Christmas by wearing new clothes, visiting their friends and family and giving gifts of chocolate or other sweets, much like the Islamic eids.
Christian facts
People (whether Christian or not) often receive presents of new clothing at Christmas, which they soon wear, often to visit other friends and family who gather in one place to share a Christmas meal together. During the Christmas season, cookies, cakes, bread and other sweets often are made to share with friends, family, coworkers or those who may come to visit. Special Christmas candy such as candy canes often are distributed to children (or anyone) or hung on Christmas trees.
What people say
Secretary Na'eesa said, "Because there are no Christians in Yemen, we don't know how they celebrate Christmas. We just saw on TV that they put up a Christmas tree."
Secretary Fatima said Christians in Ethiopia only celebrate Christmas by holding a small party in the home or visiting their Muslim friends and neighbors, adding that her Christian friends in Yemen don't celebrate the holiday at all because there's no Christmas in Yemen.
According to Nujoud, Samah and Sumaya Ali of Sana'a, "Christians celebrate their eid every year, gathering together and making big festivals playing drums and reed pipes. The day is an official vacation for Christians regarding their religious faith about Jesus' birthday.
"Surely, we know the story of Jesus, that Allah breathed life into Maryam and she gave birth to her son without being married," they recounted, with Sumaya adding, "I never celebrated Christmas before, but a telecommunications shop near the university once distributed chocolates to customers, so I took one."
Myth #3
Christians celebrate Christmas the way it's portrayed on television or in the movies. Also, all of those who celebrate Christmas are Christian (refer back to Myth #1 above).
Christian facts
The vast majority of portrayals in movies and on television most definitely are not Christian; however, there are some accurate depictions if one looks hard enough. Whether Christian or not, families often gather and share a large Christmas meal together, exchange and open presents, sing special Christmas songs and maybe even watch an American football game on television. The most important thing is for them to spend time and enjoy the day together.
While observing the above activities, Christian family celebrations often also include attending a church service either on Christmas Eve (Dec. 24) or Christmas Day, reading the biblical Christmas story or watching it depicted in a nativity play and singing Christmas hymns about Jesus' birth.
Another secular Christmas celebration involves a Christmas party at one's workplace, as well as a Christmas bonus, either in the form of a monetary addition to one's salary, an actual gift item or maybe a gift certificate for a particular item or service.
What people say
Sa'ad Al-Khawlani of Dhamar also believes Christians celebrate Christmas annually, that it's a duty for them and that it's organized by the pope. It involves a single celebration with men and women together. "They usually hold a party somewhere and eat and drink. My teacher once invited me to a nativity play depicting the story of Jesus' birth, so I went because I was curious," she explained.
Myth #4
The pope organizes the Christmas celebration, which is a duty for Christians.
Christian facts
Since I'm not Catholic, I'm not sure if the pope organizes any particular Christmas celebrations, but he doesn't determine that it's celebrated on Dec. 25. The pope is head of the Catholic Church, not the Protestants or even the Orthodox, I believe.
Unlike Islam, which requires Muslims to fast during Ramadan and perform the Hajj once in their lifetime, celebrating Christmas isn't a duty, but rather something Christians want to do to remember when Jesus came to earth to live among us and show us how to live in order to please God.
What people say
Regarding the Christmas story, Al-Khawlani affirmed that Jesus was born without a father because his mother Mary had no husband. "Her pregnancy came about because of an angel God sent and he ordered her to become pregnant, to which she responded OK on condition that no man would touch her. Only afterward was Joseph accepted as her husband. After Jesus' birth, she decided to fast and not speak, so when people talked to her, she had the baby Jesus speak for her. He said, 'I am like Moses. There will be a prophet after me named Ahmad.'"
Umm Adel of Dhamar also remarked that Mary conceived Jesus via the wind and through an angel. When people accused her, saying, "You seem to be deviant from your moral parents," the angel told them she was innocent.
Sana'a University student Jamal Al-Ajel said he heard that the Christmas story is about a man who loved a woman, but wasn't allowed to marry her, so he eventually died without marrying her. "I've never found anyone celebrating Christmas here because there are no customs and no special places to celebrate it in Yemen. I don't know the story of Christmas because I've never seen anyone celebrate it here. Most Yemenis think Jan. 1 is celebrated because of Jesus' birthday, so it's the beginning of the year."
Myth #5
The Christmas story is about a man who loved a girl, but wasn't allowed to marry her so he eventually died before he could marry her.
Christian facts
This is the first I've heard such an explanation – which sounds more like Shakespeare's "Romeo and Juliet" – but read on for the answer to Myth #6 below.
Myth #6
The Christmas story of Jesus' birth involved only Mary because she had no husband named Joseph. An angel of God appeared to her and told her to become pregnant, so a baby began growing inside her right then. Because she was unmarried, her family and friends didn't accept her and accused her of impropriety, but she told them she was innocent.
After Jesus' birth, Mary decided to fast and not speak, so the baby Jesus spoke for her when people again accused her of immoral acts. He said, "I am a prophet like Moses and there will be a prophet after me called Ahmad." Other thoughts are that Mary conceived by the wind or the breath of the angel, who defended her against her accusers, instead of the baby Jesus.
Christian facts
In the Christian holy book, the Bible, Mary did indeed become pregnant via the spirit of God because she was an unmarried virgin. However, she was engaged to marry Joseph, who thought to break the engagement when he learned she was pregnant and thus thought her immoral and not worthy of marrying.
However, before he could do so, an angel appeared to him, telling him that Mary was a good and moral woman, that the baby she was carrying was from God and that they should name him Jesus upon his birth. So, he had no sexual relations with her until after Jesus' birth, when they were properly man and wife.
Whether our two holy books agree on every aspect of the story of Jesus' birth or not, the most important aspect and the thing we can agree upon is the fact that Jesus wasn't born like anyone else. He came from heaven and didn't have a natural, earthly father. And indeed, he did perform many miracles while he lived, including giving sight to the blind, causing the deaf to hear and lame to walk, healing lepers, casting out demons and evil spirits and even raising the dead.
——
[archive-e:1010-v:14-y:2006-d:2006-12-25-p:report]