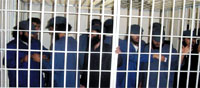 Cole/Limburg suspects threaten to chop off prosecutor's leg [Archives:2004/754/Front Page]
Mohammed Al-Qadhi
The suspects on trial on charges of several terrorist attacks threatened on Saturday to amputate the leg of the chief prosecutor, Saeed al-Akil. The eighth hearing session witnessed a tussle between the prosecutor al-Akil and the 14 suspected al-Qaeda militants. Militant Qasem al-Raimi accused al-Akil of being rigid and obstinate with them. "You will pay the price if you continue to be obstinate with us," al-Raimi said while addressing al-Akil, whose house was attacked last week with a hand grenade.
Al-Akil asked the court judge Ahmad al-Jermuzi to consider this a "real threat against him" but he addressed the suspected terrorists "I am not one of those people who can be frightened by threats and I will continue to serve my country until we achieve justice."
The house of al-Aki was attacked last Tuesday with a hand grenade thrown by someone whom police said was arrested. The attack took place at 3 AM and caused no harm. Security sources said the perpetrator was captured and was found to have kinship links to the suspected terrorists on trial.
The trial started on June 29th with the first hearing of the tribunal of 15 suspected terrorists charged with several terrorist operations and plots. The prosecution charge the fifteen suspected terrorists with blowing up the French oil tanker 'Limburg' in Mukalla in October 2002, carrying out several explosions in Sana'a, killing one soldier and plotting to blow up the US, UK, French, German and Cuban embassies in Sana'a as well as plotting to kill the US ambassador to Yemen, Edmund Hull. Some of the suspects denied the charges but some admitted them, mainly the plot to kill the US ambassador. Saleem al-Dailami said that they wanted to restore the dignity of the government by killing Edmund Hull and take revenge for Abu Ali al-Harithi, who was killed by an American drone in the desert of Marib in November 2002.
During the hearing on Saturday the advocates of the suspects presented their defense against the charges made against their clients.
——
[archive-e:754-v:13-y:2004-d:2004-07-12-p:front]