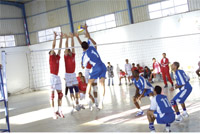 Concerns about Yemeni sports [Archives:2007/1045/Reportage]
By: Ismael Al-Ghabiri
YemenTimes Staff
Most Yemeni sportsmen and critics believe that, with all of their different games, sports require more attention by the Ministry of Youth and Sports in order to upgrade them and bring them up to the level to compete at all international championships. They further assert that all obstacles before Yemeni sports should be eliminated and that the Sports Ministry should do away with random planning and start ambitious and systematic planning for the future.
Ahli Taiz Football Club Chairman Jamal Al-Surimi believes the Ministry of Youth and Sports should care more about youth because they hold Yemen's future. He maintains that resources should be developed to reinforce the sporting infrastructure, which is an important factor in creating strong teams, adding that such infrastructure will enable Yemen to hold real championships and host various Arab and international sporting events.
Moreover, Al-Surimi believes that championship and competition timetables should be fixed, citing the delay of the 2006-2007 first-level sports season as an example, while the second-level sports season hasn't been launched yet.
Essam Al-Sanabani, secretary-general of the Yemeni Tennis Federation, hopes new Minister of Sport Hamoud Obad will establish new plans for institutional work within the ministry and facilitate procedures sports unions and clubs must follow, adding that such measures will help facilitate such groups' tasks.
Al-Sanabani went on to say that administrative dysfunctions exist, together with duplicated procedures, as more than one party supervises the activities of clubs and ministry unions.
Additionally, he wishes the Youth and Sports Ministry would care about all sports, not just football, as Yemen can achieve better in sports aside from football, provided that equality is maintained between all sports. He further asserted that there should be good and effective planning allowing for future requirements, in addition to rearranging and restructuring sporting institutions.
"Perhaps we've achieved a lot regarding facilities and halls; however, youth and juniors still require more care, as well as technical and administrative personnel, in order to accomplish more achievements in the near future," Al-Sanabani noted.
Ahmed Al-Hadda, chairman of the Yemeni Swimming Union, emphasizes that our problem lies in a shortage of sporting infrastructure, e.g., there are no Olympic swimming pools in Yemen, even in Sana'a, although one was planned at Al-Thawra Sport City, but never implemented.
He notes that, although they cost a lot of money, such pools are important in order to develop the sport, as Yemen has many distinct swimmers who can add to its international record.
Yemeni Cycling Federation Chairman Mohammed Al-Aidrous requests supplying the required sports equipment for all sports, as this also will help improve Yemeni sports.
Abdulfatah Lutf, sports supervisor for Sha'ab Ibb Football Club, demands the Ministry of Youth and Sports increase the support provided to clubs, especially from the Youth and Sports Fund, together with raising the allocations for activities because the current allocations cover just 20 percent of club expenses.
He further maintains that such an increase will help develop Yemeni sport, particularly football, which is popular worldwide.
——
[archive-e:1045-v:15-y:2007-d:2007-04-26-p:report]