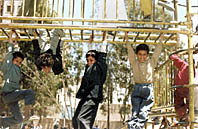 Culture [Archives:2000/12/Culture]
The Eid of Today, as Yemenis See it : Is The Joy of Eid Still There?!
Yasser M. Ahmed
Yemen Times
Eid is a well-known religious occasion, which Allah legislated for many reasons. It is connected with Hajj the biggest religious assembly and it is a chance to get rid of rancor, hatred and envy. The days of Eid are unforgettable especially for kids who become overwhelmed with ecstasy and keep playing all day long. However, as one grows up things change to the worst because of the economic conditions. Now, instead of being a ceremony where every body is happy, Eid turned into an unwelcome occasion.
Eid is the occasion where different people meet their families after being separated because of work conditions. It is also the days when one can forget all their struggle in life. We, in the Yemen Times, tried to find peoples opinions and speculations about Eid.
Mohammed Hassan Sa'ad
An Alumnus of Sana'a University, Accounting Department
"For me and for lots of my friends Eid is not an occasion that we await with excitement because we are still worrying about finding a good job to make living. So, we do feel happy few days before Eid, but soon our happiness vanishes when we remember all our duties and it turns into sadness. I believe that it is the life conditions and lack of job opportunities that kill our joy.'
Rae'ed Abdul-Mawla Al-Saqqaf
Businessman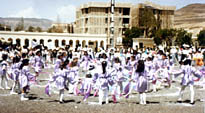 "Eid is an occasion of cheers for believers that strengthens their bonds with their religion. It is a chance for Muslims to rejuvenate their lives through celebrations, joy and entertainment. However, Eid in the eyes of parents is that periodic beast which brings along with it tons of responsibilities and financial expenses. In recent years, Eid has become like rituals which we have to do and then soon get rid off.
Despite all this, Eid is still a good opportunity for us to forget our hatred and start with clear hearts. As for children, it is still that occasion that is so exciting that it steals their sleep on that night."
Faheem Yasseen Ahmed Sa'aeed
Private Sector Employee
"Every body in this world has a moment of cheerfulness that he enjoys and this is Eid. Eid for me is full ecstasy and joy. It is an occasion when I can visit my friends outside the work atmosphere. All people enjoy Eid because it makes them forget all their problems until after it goes. So, if you really want to see the joy of Eid, just look at the happiness and cheer in children's faces for they are the most ones who enjoy this blessed occasion. Every one could make all his days an Eid if he just overcomes the black days and abandons alienation and hatred."
Bassam Shawlak
Business man
"There no happiness as that of Eid for it can not be measured and no matter how dull the conditions are it always bring the smiles and cheers with it. It is also a religious occasion when Muslims come together forgetting all their troubles and grieves. So, no matter how life is, showing happiness in Eid is a religious and humanitarian obligation. Moreover, you can see the biggest happiness of Eid in the eyes of innocent children. As for me, Eid means meeting with relatives and friends and exchanging talks and congratulations.
Yasseen Abdullah Al-Himyari
Employee
Eid is a religious and Islamic event when thousands of Muslims gather from all around the world to perform the fifth pillar of Islam "pilgrimage" in uniform manner, cloths and words. It is the occasion when every one forgets hatred, sorrow and when children become filled with joy and happiness making it the best day of the year. However, these days because of the bad economic conditions of the country, Eid has become more of a burden. Parents need to buy new clothes for their children and Eid sweets. Therefore, I call on every body do disseminate cooperation and feeling of brotherhood for Eid has beautiful moments which we should not waste because they would become part of our unforgettable memories.
Mahyoub Ghaleb Abduh
Employee
"To me, Eid is a scary ghost because it comes with all sorts of burdens. I am a father of eight children and they all need new clothes for Eid not mention meat. So, I would only talk about Eid joy only if I could find these two needs. However, despite all this I think it is an occasion when people meet to congratulate each other, talk and forget all their disputes."
Abdullah Al-Otmi
A Building Guard in Sana'a
"I have been working as guard for 10 years now and this type of work demand my presence 24 hours a day. So, Eid is big problem for me especially that I receive only 10 000 YR per month. I have a family composed of 7 members who live in the village and I have to take care of their needs. Many Eids have passed and I could not see them because I had to stay here and do my job. However, even in these conditions I think that Eid is a chance for people to forget their rancor and envy."
Sabah Mohammed Al-Koutayli
Employee
"Eid is beautiful occasion when people meet and take a breath from life's troubles.
I consider Eid the best day of years because it reminds me of my innocent childhood when I would play and be filled with joy. It is an occasion when one can abandon his troubles and sorrows. Eid is also a religious and social ceremony which helps bring hearts together. I was hoping to see my father who works abroad for Eid reminds ones of his beloveds. Finally, I say happy Eid for every one."
Nasreen Al-Jawfi
University Student, French Literature
"Those old days arise sorrow in our souls. We used to be happy to receive Eid and we would always prepare careful for it. However, we grew up and our Eid joy did not grow and we gradually forgot it.
Now, we have even Eid has become like any normal day which brings nothing new. Eid is rendering us an invitation to celebrate it but how can we accept this invitation? We really need a lot before we can celebrate it. We need love, peace, hope and clear smile that render comfort to whoever sees it. Despite all this, Eid remains a joy in kids' hearts and a smile in parents' faces."
Hayfa'a Mohammed
University Student
"Eid is a religious occasion that assembles Muslims in all Arab and Islamic countries. On the first day of Eid family members greet each other and sons and daughter kiss their parents as a sign of gratitude. Then people greet their neighbors, friends and relatives and this strengthens the social relations with in the society. We should not forget also that Eid is for children more than it is for adults because they get new clothes, toys and sweets. They also go and play in gardens all day.
Fadle
Worker
"I arrived to Sana'a directly after Ramadan hopping I would gather enough money to cover the expenses of the Big Eid. Unfortunately, I could not even cover my own work expenses because of the lack of job opportunities. We work one day then stop for 3 or 4 days. I had this big hope of being able to provide Eid clothes and meat because those two things are connected with Eid. The problem is that children do not differentiate between their needs and the paucity of resources."Therefore, no matter how harsh the conditions are, we still have to make Eid that chance to draw a smile on kids' and adults' faces. So, will this chance remain to us or would it vanish as time passes so that the smile becomes an impossibility?
Mohammad Abdullah Abdul-Rahman
Child in the 7th grade
"We impatiently wait for Eid because we know that in Eid we buy new clothes, eat fresh meat, go out with our family to gardens where we play with other kids. Sometimes, we travel to our village where we see people slaughtering cows or performing folklore dance while the drums are beaten. Eid in villages is very enjoyable for you can see every body happy. Eid is full of joy and cheerfulness and I love it."
Arfak Taher Al-Mayasi
Child in the 5th grade
"We, kids consider Eid the best occasion for we go to gardens, wear new clothes, eat sweats, meet friends and visit relatives. Sometimes we spend Eid in the village and we find that really amusing because we see farms, domestic animals and go with kids to the Eid prayers ground to watch people praying then finally we go and see people slaughtering different cattle for meat.'
——
[archive-e:12-v:2000-y:2000-d:2000-03-20-p:./2000/iss12/culture.htm]