Dahm Tribe Rejects the Jeddah Border Treaty & Threatens Demarcation Companies [Archives:2001/18/Front Page]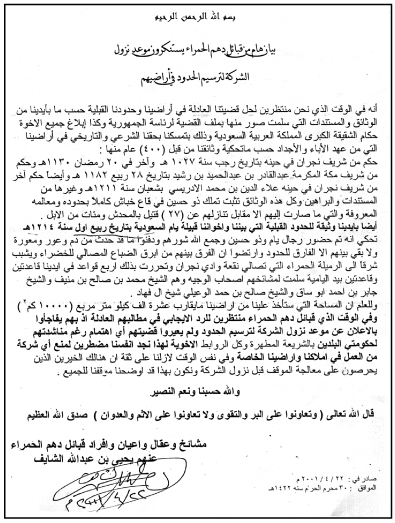 A statement by the Dahm Al-Hamraa tribe affirmed that the tribe would not allow any demarcation company to work on its land according to the Jeddah border treaty signed between Yemen and Saudi Arabia in 2000. Below is a summary of the statement:
"We are awaiting a just solution to the issue of our land and tribal borders as illustrated by the documents beforehand, a copy of which has been handed to the President, which includes:
verdicts by the Sheriff of Nijran In 1027 and 1130 Hijirah, a verdict by the Sheriff of Mecca Abdulqader bin Abdulhameed in 1182, etc. and other documents; After we have notified the leadership of Saudi Arabia about our legal and ancestral right to our land that we inherited from our grandfathers 400 years ago, we were totally surprised to hear about the company assigned to demarcate the borders. Despite our appeal to the leadership of the two countries to seriously consider our problem we have been ignored and neglected. Therefore, we find ourselves forced to forbid any company from working on our land. At the same time we trust that still there are opportunities for who are determined to solve the problem before the aforementioned company starts its activities.
For and on behalf of Sheikhs and tribesmen of Daham Al-Hamraa Tribe
Yahia b. Abdullah Al-Shayef"
——
[archive-e:18-v:2001-y:2001-d:2001-04-30-p:./2001/iss18/front.htm]