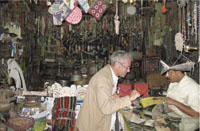 Danish impressions of Yemen [Archives:2008/1218/Culture]
Nadia Al-Sakkaf
A group of Danish citizens visited Yemen recently on a cultural study tour. For all involved it was a first time visit to Yemen, and for most it was the first time they had visited any country in the Middle East. The group included a teacher of history and comparative religions, an arts and design teacher, a social worker in a hospital, a retired nurse, a prison guard, a chemist who is also an activist and his son who is currently at university.
The tour lasted two weeks and included visits to Sana'a, Manakha, Ibb, Mahwait, Taiz, Kawkaban, Zabid, and Hodeidah. "We hesitated before coming because of the risk, and especially because other governments had already issued travel warnings. But our government had no particular instruction so we decided to go ahead."
It all started one year ago, when Osbjorn Petersen, a lecturer in Chemistry and Physics and an activist with the Crossing Boarders Program in Denmark, met a woman by chance who interested him in visiting Yemen. He asked her to remember him when the time for the trip came – she did, and so he came to Yemen.
\"I had seen the movie ""A New Day in the Old City"" and liked it