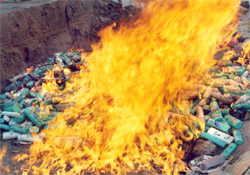 Destruction of P&G Counterfeit Products [Archives:2001/29/Local News]
Products which do not carry the genuine logo of P & G. Wednesday 11 July, a great deal of counterfeit products bearing the logo of Proctor & Gamble were burned.
This has come following a court ruling stipulating the destruction of all the counterfeit products bearing the logo of the company. According to the directives of the head of the court, the Environment Department in cooperation with the representatives of the company has confiscated and destroyed all the counterfeit products. These products had entered Yemen through smuggling which are 1500 medium size and 1500 large size counterfeit products.
On the other hand, the Environment Department has warned the merchants not to deal with the exporters of such
——
[archive-e:29-v:2001-y:2001-d:2001-07-16-p:./2001/iss29/ln.htm]