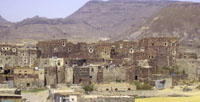 Dhafar: The missing link in Yemen's history [Archives:2007/1102/Culture]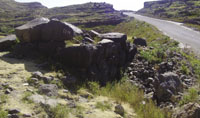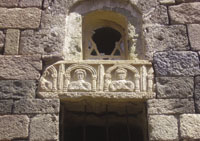 Hamed Thabet
To both locals and foreigners, Beit Al-Ashwal village is an attraction to behold. Its old homes, whose stones were brought via camel from another of Yemen's former ancient cities, are a landmark. Hamed Thabet visited the village to talk with experts and locals there.
The only pre-Islamic civilization and the last stronghold to surrender to Islamic rule, Dhafar was Yemen's main ancient city during the Himyarite period from 850 B.C. to 525 A.D.
Fifty or 60 years ago, locals used camels to bring stones from Dhafar and built homes in another area known as Beit Al-Ashwal. Experts say much information about Yemen's ancient history was lost when those stones were transferred.
"Valuable historical information is lost when stones and antiquities are transferred from one place to another and such information is impossible to retrieve again. Even here in Dhafar, there's a missing link in Yemen's history," an architectural expert from the General Authority for Antiquities and Museums explained on condition of anonymity.
Experts maintain that they can't study this historic area. For example, in order to obtain even basic information, they must go to Beit Al-Ashwal village and study its stones and sculptures, which will take much time.
Experts at the General Assembly for Antiquities and Museums say they need to trace each stone's original location in order to gather information about ancient Dhafar's history.
According to the aforementioned expert, each stone is from a specific location; thus, history can be traced and studied from that location. For example, the types of stones used to build the temple inside Dhafar's Gheidan Palace were different than those typically used to build a palace or a stable, he noted.
"Additionally, decorations for their houses and markets had various types and shapes. The issue involves some sculpted white stones that are so rare and have much valuable meaning. These stones can be found in the foundations, floors and facades of many homes in Beit Al-Ashwal," he explains.
Dhafar locals sold stones from their old and abandoned houses, so residents didn't have any housing problems because sufficient housing already was available. Hence, they simply sold the abandoned and old homes that they weren't using.
Regardless, studying the stones in Beit Al-Ashwal is insufficient in order to gather information on Dhafar's history. According to Khalid Al-Ansi, director of Ibb's General Authority for Antiquities and Museums, drilling and studies are ongoing in order to discover new places still buried underground in Dhafar.
"We aren't blaming anyone for destroying Dhafar and bringing its history to Beit Al-Ashwal because this process occurred in the past and over time. However, it did happen because residents of both villages were poor, as well as ignorant of the negative results their actions caused."
The same official clarified that local residents bought stones from Dhafar in order to have stones that were ready for construction.
"Locals have told us that instead of getting stones from the mountains, they preferred buying Dhafar's stones because they were shaped and ready to be reused. Residents of Dhafar and Beit Al-Ashwal at that time weren't concerned about their history, which is why they say, 'In the end, it's nothing more than stone. It doesn't really matter if it's considered a piece of history or not.'"
According to Al-Ansi, residents of Beit Al-Ashwal bought ready-cut stones from ruined homes in Dhafar. "The worst of it was that by offering some money, these people tore down the old houses of Dhafar and transferred all of its material to their village," he adds.
Currently in Beit Al-Ashwal, many special antique stones are used to decorate new homes, with some even decorating the floors and walls. However, many of the sculpted white stones are on the ground and some are used in conjunction with other normal ancient stones used to build homes.
There are two types of stone: normal ready-cut stone used for construction, which is old belongs to the Himyarite period. The other type is decorated white stone with beautiful inscriptions, which is rare and valuable. It is these white stones that are used to decorate the facades of homes, as well as pave the inside floors.
According to the same previously unnamed expert, "If these antiquities were in another country, no one would be permitted to touch them. But unfortunately, in Beit Al-Ashwal, everyone has the right to walk and run all over them. As a result, these stones have become useless and have lost their valuable antiqueness.
Dhafar locals still don't know the historical heritage of the stones they lost. When asked about the damage they caused to ancient Dhafar, they argue, "Come on, they were just stones! What can a stone do for you? Our fathers and grandfathers needed money. We also helped our neighbors in Beit Al-Ashwal."
Resident Nasser Al-Ashwal, a medical student at Sana'a University, notes, "It's important to mention that people in our village never accept selling any piece of stone from their village to anyone, especially sculpted white stone. Moreover, it's right that they bought stones from Dhafar 50 or 60 years ago, but everything has changed now. After learning the value of their historical stones, locals in Beit Al-Ashwal kept them."
He adds, "If we want to move house, we'll take the stones with us to the new house because we take the stones from the old house and reuse them to build the new one. However, we sometimes just leave them at the old house without moving anything until we see what we're going to do about it. This is due to problems that occur when a father dies and his beneficiaries don't agree about the old house, so they just desert it without any protection, leaving everything inside."
Approximately 90 percent of homes in Beit Al-Ashwal are abandoned and only 10 percent are inhabited. More than once, abandoned homes have been subject to thieves.
"Most probably, locals steal the stones from the houses because nobody can get into our village without being known. Moreover, a few ancient stones with sculptures have been stolen from the village cemetery," says local council member Ibrahim Al-Ashwal notes.
"Many times, powerful individuals offer villagers great sums to compel them to sell the stones, but no one will do it. Although many homes are abandoned, residents are holding fast to their properties," says Zeyad Al-Ashwal, who is in charge of supervising the village's ancient sites.
According to councilman Ibrahim Al-Ashwal, one resident recently wanted to give an ancient white stone as a gift to someone else, but police caught him at a checkpoint while he was carrying it. He returned the stone and promised not to do it again.
Homes at risk
Residents are asking local authorities to preserve the area's homes and other historical sites because they are at risk of destruction.
Also responsible for supervising Beit Al-Ashwal's three dams, Zeyad Al-Ashwal says his job is to repair the dams and watercourses before they are destroyed, noting that cement is used to repair everything.
"When repairing old homes, we use cement, which has a bad effect on construction, as some parts of the dam, watercourse and some houses become damaged. However, we do this because we have no other choice and no experts in this field," he explains.
He continues, "We've asked the local council to consider Beit Al-Ashwal one of Yemen's historical sites. We sent a letter about this to the local official in charge of Al-Sadda district in Ibb governorate. Repairing old homes is something that's necessary and important before they are ruined."
Beit Al-Ashwal lacks those with construction knowledge. Zeyad Al-Ashwal notes that only one 90-year-old villager is knowledgeable about using the right material to repair the homes, "However, he's too old to teach others. We've asked the local council to give him whatever he needs in order to teach us and share his experience. If we continue in our own way, we'll destroy what's left of our village."
A German team from Heidrig University recently began drilling sites in Dhafar and discovered an ancient temple used for worship, according to Al-Anisi.
He further notes that the General Authority for Antiquities and Museums is working on several other programs according to a list of historical sites needing repair. He points out that, compared to other sites, homes in Beit Al-Ashwal are in good condition.
"Houses in Beit Al-Ashwal are properties and such endowment properties are now in our plan, so we're working on them first. We restore homes of public interest and then those owned by locals. It mainly depends on financial support, which is insufficient to cover all of the planned programs," he explains.
The museum authority considers Dhafar an important historical site and has placed barriers at newly discovered sites, such as the temple found by the German team in Dhafar. The temple is inside Gheidan Palace and was used for worship. Experts still are researching the temple to learn more; however, officials say there's not enough funding for such research.
Neglected dams
Al-A'war is a historical dam in Dhafar dating back to the Himyarite period of 850 B.C.-525 A.D.; however, an asphalt road now lies beside it. The distance between the dam and the road is just a meter.
"These types of historical sites must be encircled and not trodden on by people in order to preserve them. In the future, vehicle emissions will damage the dam," according to officials.
However, Al-Ansi explains, "We had no other choice. The road was built [during my predecessor Ali Abdulqawi Al-Tulayhi's management] because residents needed it. Although residents, the local council and other tribes tried to stop its construction, the government built it."
The road's location was the best place, even though Dhafar generally is a sensitive historical area. For example, most locations that were available for the road were on ancient burial grounds, historical treasures and many buried sites that haven't been drilled yet.
The road was paved in 2001. Al-Ansi further noted that the road project took a year because both locals and local officials tried to stop it. "Workers slept on the project site and the government brought in some of its army to be there if there were any problems," he adds.
——
[archive-e:1102-v:15-y:2007-d:2007-11-12-p:culture]