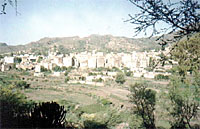 Dhi Al-Sufal CityYou mean wonderland? [Archives:2003/645/Culture]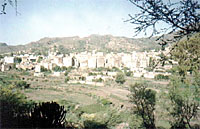 By Salah Saleh Ahmed
Yemen Times, Taiz
It is really such a surprise never occurred in my mind to write about an unknown city such as Dhi Al-Sufal, 25 kilometers far from Taiz. Starting from the maze of streets and lanes within the city and then the wonders that surprise you at every turning of the streets, then the magnificent domes and beautiful nature surrounding you. One of the amazing monuments of the place is the Great Mosque as termed by the natives. It dates back to Al-Sulahiya Kingdom, some 600 years ago, and is characterized by the fascinating arches and domes, especially the 10th dome which is 5 meters in diameter. The minaret of the mosque has old decorations engraved on it, and the three wooden doors are decorated in a variety of triangular shapes.
A piece of history
300 meters away from the great mosque lies a historical compound. One of the main features of the compound is a mosque called Jamie Al-Wali which is 300 years old. It is square in construction and has two interior cylindrical pillars of 6 meters each. The ceiling of the mosque is decorated with 40 symmetrical-sized and shaped crosses.
Close to the mosque is the mausoleum of Saint Imad Wali Al-Din. The mausoleum is about 7 meters high and is similar in construction with that of other ancient tombs and graves, yet what distinguishes it are the decorations and engravings on the remaining part of the tomb which was destroyed in the course of time, and only half of it remains standing and of course the grave lies still in one of the corners.
Al-Qasir mausoleum is another aspect of this historical amalgam. The literal translation of the name means "the minor", natives say this name was a result of the comparison between this tomb and that of Imad Al-Din which is about 25 meters far. However this tomb has a special merit in that it is designed in a shape of a hexagonal star composed of two separated triangles one on top of the other, this star is surfaced by a dome about 6 meters high.
An adjacent tomb is that of Saied AL-Noat which is about 350 years old. It is 7 meters in length and 3 in width. It has a small Mihrab, in which the tomb lies, that used to be obvious from any distance, yet today you have to cross two gates to see it, and that is if the keeper let's you in. But if you are unlucky like me then you won't be allowed in due to the fact that a decorated wooden container, a number of religious books and a few number of Holy Quran were stolen in the past.
She was here
I walked the same routes that my ancestors, centuries ago, used to take while in their trade trips to and from Yemen. The very roads that Queen Arwa bint Ahmed of Al-Sulahiya Kingdom had built. She had ruled after her husband for more than 50 years and is considered of the great rulers in Yemeni history and perhaps worldwide. It is a 60 kilometers long road joining Dhi Al-Sufa with Jibla that was the capital of the kingdom then. A number of bridges that were built in the same time are seen along the road. In fact one of which, namely, Queen Arwa Bridge, about 8 meters high, is still in good condition today although it's been more than 800 years since it had been constructed. An amazing thing about this road is also the entertainment premises that were created on the roadside, where a mosque for passengers was built and an inn with a rest house were created also.
A small distance along side the road another bridge called Al-Ribat Bridge could be seen. Imam Ahmed Hamid Al-Din built this one in 1958. Yet this one is smaller than Queen Arwa Bridge as it is only 5 meters high and less decorated as well.
Natural Beauty
Even if you were not interested in historical monuments and you were someone interested in natural landscapes, here is the place for you too. All along the roads leading and surrounding this city, beautiful nature smiles at you through the green forests and wonderful trees. The amusing thing is that through this forest you find two paths; each leads you to an old school. One called the Yaqotiya School and the other Ghasaniya School which at that time were the largest educational institutions where students used to meet and learn just like universities of today.
I am sure even if I wrote books about this wonderland place it would not do it justice this is just a small tempting narration of the place that holds a dear place in my memory and will always have a soft corner in my heart.
——
[archive-e:645-v:13-y:2003-d:2003-06-26-p:culture]