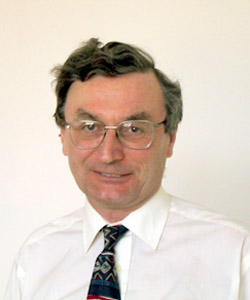 Director of British Council for MENA Region to YT: "We try to create opportunity for people worldwide as the UK has a lot to offer" [Archives:2001/13/Culture]
Dr. Ian Simm is the Director of the British Council for the Middle East and North Africa (MENA) Region. Even though he has been working with the British Council for nearly a quarter of a century, he was appointed as the Director of the British Council for the MENA region only last year. Dr. Ian Simm has previously worked in Egypt and Iran and he is quite familiar with the Middle East. Even though Dr. Simm is based in London, he constantly visits the countries in the Middle East and North Africa, which run from the Iran in the east to Morocco in the west. Having to cover such a vast area with 19 offices for the British Council, run by 19 directorates, Dr. Simm's was barely able to spend no more than 2 days in Yemen. Interestingly enough, he was able to efficiently use his time to accomplish all his goals during the visit, and luckily he had the time to be interviewed by Yemen Times at the British Council office in Sanaa. During the interview Dr. Simm discussed several issues ranging from the objective of his visit, to the future prospects of the council in Yemen. Here are some excerpts from the interview.
Q: Could you explain the purpose of your visit to Yemen?
A: Even though this is my first visit to Yemen, I hope it would be one of many, and perhaps I will come back for a longer time. Being the Director of the British Council for the MENA region, my duty is to make sure that all the activities of the British Council in these countries are in line with our policy. I am also responsible of making the best use of opportunities to build up relationships and partnerships with the people in the countries of the region.
Briefly, I am here because the British Council is keen to promote relationships and partnerships with the people of Yemen, particularly in the fields of English teaching, education, human rights, governance, and other various areas.
Q: What is the British Council focusing on in Yemen, and how do you evaluate its activities so far in general?
A: We have been in Yemen for a very long time. The British Council itself was founded more than 60 years ago, and Yemen has been a country where the council has been very active. What we do has evolved and changed as the world has changed. Our concern is to make sure in Yemen that we are building our work in the realities of now rather than those of ten years ago. We are keen to get involved in development projects in human resource, education, and The English language. We are also involved in capacity building of institutions and sharing British experience in these areas. We are teaching English language to government officials involved in different development projects, including the one funded by the British Government for economic and financial reform and another one funded by the Dutch Government concerning giving skills to them in a variety of different areas. We are also helping training them in those skills not only the language. The British Council throughout the world is very active in delivering development projects in education in governance and restructuring public service and reform programs. We are looking for opportunities to do more of that with the European Union, which has a representative in Sanaa as well.
I was talking with the Education Minister on Tuesday and he was talking about a new program in teacher training, both in pre-service and in-service training. We have done a lot in the English teaching side of it and we are ready to do more. The minister is looking forward for future teachings. We are preparing a project for English language teaching on Television. We also manage the British Government Scholarship Program. We manage various exchange visits and university links as we have two active university links, one in medical education and one in small business development, which we wish to expand. We also would like people to think of, and propose new areas in which we could develop more links by going to the United Kingdom for training or to use international training material to advance their careers. But for those who can't go to the UK due to some restrictions, we would like to make it possible for them to use distant learning techniques to get British degrees similar to what is happening in some countries in the area such as Saudi Arabia and the United Arab Emirates.
As for my impression and evaluation to what we are doing here in Yemen, all I could say is that we are doing quite well but we can always do better. But what I was very encouraged by was the level of engagement at the high level. For example we are arranging for helping the Minister of Public Health attend a conference in Cambridge next month and the deputy minister is also going to Britain to attend an education conference next month. I spoke with several ministers in the last two days and all of them had been quite encouraging the development, relationships, and cooperation on all levels between the UK and Yemen. So on the governmental level we have a very good platform.
Q: You have mentioned more than once that the objective of the British Council is to develop relationship and partnership with the people. However you have not mentioned much of interaction in your last answer. Could you focus more on the activities relating to communities and people?
A: We are managing on behalf of the British Government a scheme called the " Small Grant Scheme", which at the moment is running about 11 small projects mainly with NGOs, but sometimes with governmental organizations as well. We would like to continue these efforts as they achieve very useful results at the grassroots of development with ordinary people. We are also delighted to develop our relations further with the media in Yemen. We are very keen to demonstrate the importance of delivering the truth through independent press and are willing to strengthen our relations further. We are currently in the process of cooperating with the national television to broadcast English language lessons as well. We have close relations with business people who value improving language and qualifications of their employees. We are intensifying our efforts to cooperate more thoroughly with the private sector on all levels. We are particularly interested in interacting with the young generation to improve their qualifications as they will be the leaders of tomorrow and offer them the services important to improve their skills. We are currently concentrations on new technologies and their use for the new generation, particularly the Internet and information technology to cope with the global revolution taking place everywhere in the world.
Q: Some Yemenis know the British Council as an English language institute only, similar to many that we have in Yemen. Are you working on changing this image?
A: English language is very important, but it certainly is not everything. The British Council is not merely an English teaching school. Sometimes we teach English if it is the right thing to do. But we do this so as to improve people's understanding of English and introduce the best of English language teaching methodologies. We always want to be the top in quality. English is a particular product England has given to the world. We invented English so we feel responsible for it and we see ourselves very much as leading the world in English teaching methodology. Sometimes we decide it is better to support other people to teach English language, but most of the time we feel that we should do it ourselves.
Q: How is your relationship and cooperation with NGOs in Yemen, foreign and local?
A: We have good relationship with all NGOs. We seem to have more cooperation with local NGOs rather than foreign NGOs operating in Yemen. We talk and discuss matters of mutual interest with NGOs and work on human rights issues, status of women, and illiteracy in different levels and aspects. We continue to exert efforts to expand our cooperation in the fields that would benefit the development of the country and the wellbeing of the Yemeni people.
We must remember that the British Council is concerned with cultural relations and building links with the people across a wide range. This can be done directly with the people and through the cooperation with the government and NGOs. We say that we try to create opportunities for people worldwide as the UK has a lot to offer but it may not have all solutions. But we have got a lot of ideas and need to share those ideas. This is not just in language but in education, human rights, governance, and civil service reform where Britain has been very active in the last 20 years.
Q: Can you brief us about activities the British Council is to start in the near future?
A: We are about to agree with our embassy regarding the small grants that will be funded next year. We will be continuing with our teaching and training for the development projects and will be looking to do more. We are talking to potential donor agencies such as the EU, the World Bank, and the embassy to see what projects there are.
We are planing to refocus on our library, which is a resource center mainly for English language students and teachers, not just a general library. We want to investigate the new opportunities in distant learning through the Ministry of Education by broadcasting English language lessons on television. We want to establish in Yemen how far Yemenis are using the Internet for communication, because we cannot simply setup a British Council center in Aden or Taiz. So if we can communicate through the Internet we can reach out to a wider number of people. We would like to develop better interest among the public in the British Council and ask them what they want from us and how we can achieve it. It would be great if the people of Yemen try to reach us and tell us what they want. Even through your newspaper, it would be a pleasure for us to discuss their inquiries.
Q: Frankly speaking, Yemenis would like to learn English, but they see your course fees as not affordable due to the current economic difficulties. Is there something you could do about it?
A: We have to be imaginative and think about ways that don't cost so much. This is a great advantage of technology as it provides more affordable ways for learning. Internet cafes could serve with their low fees as an alternative for young Yemenis who want to learn. We can then publish our lessons online, and support the online courses with more conventional methods. We have to work together to seek new solutions to old problems including affordability.
Q: Talking about economic difficulties, you mentioned activities in various fields except the economy. Do you deal with economic activities as well?
A: One of the higher education links we have is between a group of academicians coming from the university of Glamorgan in Wales to Sanaa to work with the faculty of Engineering in Sanaa University on the problems of medium and small businesses and why they are not developing as they should. They will try and help develop businesses in Yemen. We do send Yemeni officials abroad to attain better understanding of steps required for the implementation of economic reform. We do want young people to study in the fields of economics and business whether it is by distance or by going to the UK. We are teaching government officials through two programs, one regarding the Ministry of Finance and the other regarding training on management skills and civil service so as to manage the economy more efficiently.
Q: As you said, the British Council had been represented in Yemen for such a long time. Do you follow up the results of the activities and the postgraduate career of your students?
A: We do work on staying in touch with all who graduated from Britain and know how they coped up with life and how they benefited from their education. We try to keep in touch with all who participated in seminars, workshops, or training courses in Britain. We work on it but it is quite difficult to stay in touch with everybody for life. Building up networks is one of our objectives from these activities. For example, the upcoming visit of the Yemeni Minister of Public Health, Dr. Abdulwali Nasher to the UK will result in strengthening the existing relations and expanding the communication network by keeping old relations and creating new ones.
Q: Any final comment?
A: I would like to thank you all for welcoming me to Yemen. This as I said was my first visit, but I expect to be here more often. I have started looking forward to coming back soon.
——
[archive-e:13-v:2001-y:2001-d:2001-03-26-p:./2001/iss13/culture.htm]