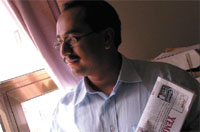 East and WestWe'll all miss WalidSaying hello, saying goodbye [Archives:2005/828/Last Page]
By Jamil Abdul Karim
May you grow up to be righteous,
May you grow up to be true,
May you always know the truth
And see the lights surrounding you.
May you always be courageous,
Stand upright and be strong,
May you stay forever young,
Forever young, forever young,
May you stay forever young.
) Bob Dylan
If I had things my way, which I usually don't, someday I'd like to see two of my friends meet each other. One is Daniel Pearl. You'll recall Danny was an American journalist, abducted and beheaded by Islamic extremists in Pakistan in 2002 for no real reason, besides that he loved the truth. The other is Yemeni-born Walid al-Saqqaf, who, as you read recently, has left his post as Editor-in-Chief of The Yemen Times.
Last week, he began work at The Wall Street Journal's Washington bureau (in a fellowship sponsored by the Daniel Pearl Foundation). It's where Danny worked for several years. Until recently, as the chief editor of The Yemen Times, Walid was my boss. Now, like Danny, he's simply my friend.
I've never actually met Danny. I know him as a friend only through a posthumous collection of his writings aptly called At Home In The World. From there, I feel Danny, who loved talking to strangers, really has given a personal hello: from the many exotic locales in his Middle East and southeast Asia beat, to a tiny office cubicle, complete with beach-chair.
Changing the world
By all accounts, Danny, who was Jewish, was a remarkable man: skillful, unconventional, and one of those rare people, who, although young, had both the nature and opportunity to help change the world. Which is why I think he and Walid, who's just 31, would enjoy furthering Muslim-Jewish dialogue in, say, some juice bar in Tehran with Bob Dylan playing.
As it is, Walid is now in Washington on a Daniel Pearl Fellowship. It's a new part of the Alfred Friendly Press Fellowship Program, which, for over 20 years, has given journalists from dozens of developing countries work opportunities in American newsrooms. None have ever come from Yemen. Which says something about Yemen. But something more about Walid.
"It was my destiny to be a journalist, and it was my fate to lead this newspaper in particular," Walid wrote in his Yemen Times farewell editorial. Interestingly, the last Times issue under his helm was #820, which corresponds to his birth month and day.
Walid began leading The Times several years ago, after the death of his father Abdulaziz, who founded this independent newspaper. That was not long before I arrived in Yemen.
My own departure
As fate also has it, Walid has now left Yemen just before my own departure. Soon my family and I move our overseas base to Africa. I feel fortunate for my season of time with Walid. And I will miss him.
I'll miss watching him do business with a phone in each hand. I'll miss that sheepish feeling I always had after complaining about his country's befuddling laxness. I'll miss our laughs together over what Danny would call the "absurdites de l'existence."
Yes, Walid has shown a courageous intellect. He's been able to both scold and befriend high officials. He's been a cultural bridge and ambassador while already routinely representing Yemen abroad.
And many Yemenis will miss him because they see a likeness of his father. Shortly after becoming the only Arab to receive the U.S. Press Club's International Freedom of the Press Award, Abdulaziz died in a traffic accident. Not surprisingly, many Yemeni herald him as a martyr for human rights.
It all seems fitting. Because if you look inside Walid's copy of Danny's At Home In The World, after a personal note to Walid from the Pearl family, you'll see the book's dedication: "For Danny's son, who will know his father in words and spirit."
No, Walid won't ever meet Danny in this world. But he too will now know him in spirit. And, you know, Danny's son, who was born shortly after his father's death, is now big enough to reach up and say hello.
Jamil Abdul Karim has been a Yemen Times editor and columnist since 2002. He leaves his formal editing and writing duties with this issue.
——
[archive-e:828-v:13-y:2005-d:2005-03-28-p:lastpage]