Entertaining society for free [Archives:2008/1216/Last Page]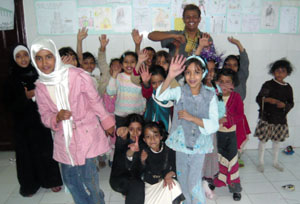 Yemen Times Staff
A'ad Numan organizes entertainment events for the community and helps Yemeni youth and children express themselves through art.
With a bright yellow scarf and styled hair to match his bubbly character, A'ad Numan, 24, is a Yemeni IT graduate from Aden who wants to do something for his society.
He juggles two jobs -one as a computer engineer and the other as a science teacher in a private school in Hadda- and dedicates his spare time to organizing drawing exhibitions and concerts for the benefit of those around him.
"Children's rights are lost in Yemen," he says, and this is why he organizes regular exhibitions of children's drawings.
The multi-talented activist used to lead a group of 13 intellectuals in Aden who, at Al-Mina Sport and Cultural Club, organized activities to provide -in his words- "free entertainment for the public".
"We sing, dance, act, draw and do everything to bring smiles to people's faces," said Numan.
He spoke of his friends Ghufran Rafeeq who teaches hip-hop, Arzaq and his sister Rowa who sing, Ali Naser and Eyad Al-Risha who are talented actors, the scenarist and director Omar Al-Masri, and talented singer Adel Taha.
His brother now organizes the group's activities in Aden, while Numan tries to establish a new group in Sana'a.
"My mother tells me I am an idiot because I spend all my money and time on a society that does not appreciate it. But I continue because I love it and I want to do something for my community," he said.
His new group includes Fuad Al-Matari and Rami Dubae who are talented artists, as well as Mohammed Al-Maumoni and Yousif Al-Aghbari who help him with organization.
He has organized three exhibitions in Sana'a so far, the latest taking place last month under the title: "Drawing gathers us", where pupils from three governmental schools in Sana'a showed their artwork to the public for the first time.
Aged between six and 17 years-old, students of Saba, Al-Thulayya and Al-Meethaq governmental schools exhibited over 150 drawings for parents, friends and the general public to admire in two classrooms in Saba school.
"The exhibition was to encourage children to thrive through art," enthuses Numan. "Children can express themselves better by drawing that by speaking."
Displayed on large colorful posters along the classrooms walls were portraits of traditional Yemeni families, detailed sketches of old Yemeni buildings, colorful depictions of seaside holidays, rural scenes of women working in fields, caricatures of qat chewers and even a portrait of the country's president.
The children loved the idea and appreciated the opportunity Numan gave them to express themselves freely with paint and pencils.
"I drew a man chewing qat. It's unhealthy and brings nothing to Yemenis," said Hussein, 17, nevertheless admitting with a grin that he does chew from time to time.
While the older participants in the exhibition had put their artistic talents to critical use, younger contributors were simply happy to be holding colored pencils. Hossam, 10, drew a red flower and Soraya, 7, drew an egg because she likes eggs.
Numan's previous exhibition was entitled "Life is sweet" and the children drew about their positive impressions of life.
The first exhibition in Sana'a was entitled "Aden children greet Sana'a children" and took place in February. He received criticism and accusations of trying to segregate Yemeni children.
"I will now take the drawings of the Sana'a children to Aden and early next year we will have a reverse theme. The new exhibition will be "Sana'a children greet Aden children", and I hope it will be received well," he said.
Not only do children love these exhibitions, but the community appreciates them too because they see how proud and happy their children are to exhibit their work for all to see.
Numan believes that the community, especially girls, needs support and entertainment, and this is why he hopes to create a new exhibition for female students to promote women's rights.
"I am afraid that society will not let me work with female students to organize this exhibition, but I hope that someone will share my dream and want to support me to make this ambition a reality," Numan said.
He looks forward to working with anyone. "I am not doing it for money," he said. He would like the private sector to consider donating awards and prizes for children participating in all events, whether drawing, singing, acting or dancing.
He also encouraged decision makers at the Ministry of Education to include more arts in the national curriculum and give marks for subjects like fine art and music so that students take it seriously and develop their talents.
——
[archive-e:1216-v:16-y:2008-d:2008-12-15-p:lastpage]