Eradicating Polio: Campaign Gains Momentum [Archives:1998/43/Health]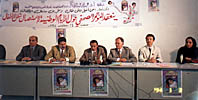 A press conference about the National Days for Eradicating Polio was held on Saturday, October 24 at the National Institute for Administrative Sciences. The conference was attended by Dr. Abdullah Abdulwali Nasher, Minister of Health; Ms. Amat Al-Alim Al-Soswa, Information Deputy-Minister; Dr. Abudlkarim Rasa'e, Health Deputy-Minister; Mr. Habib Hammam, representative of the UNICEF; Mr. Yassin Qinawi, representative of the WHO; representative of the Japanese Embassy, and the World Health expert from Geneva.  
In his opening speech, Dr. Nasher said: "Last year, vaccination covered less than 25% of the of children. Until today, it covered 65% and we hope it will cover 70% by the end of this year. This conference has been prepared for from July 28, 1998." 
The Japanese government provided maintenance services for the following: 
– 60 vaccination coldstores in various governorates with refrigerators and generators. 
– 12 vaccination coldstores in different directorates with equipment that work by solar energy. 
– 20 health centers with solar energy equipment. 
During September, 23/24, the vaccines were imported and then distributed to all health centers in governorates. From September 30 to October 3, the general managers of the health centers were trained. On September 29, a special operation room set up for administering the campaign began its work. From October 3 to 12, leaflets about the campaign were distributed in the governorates. On October 10, a cooperation memorandum was signed with the Japanese government. On October 18 and 19, the Immunization Supreme Committee, the Prime Minister, the Parliament Speaker and head of the Consultative Council held a meeting to put the last touches on launch of the campaign activities. On October 20, the Vice-President attended the Supreme Committee for Immunization Coordination session. 
Those who participate in the campaign from the health sector are 5646, in addition to 13,361 volunteers. There are 5405 vaccination centers, 2400 of them are permanent places and the other 3,005 are temporary centers. There are 552 supervisors. Some 558 cars are to be used in the campaign. The number of children targeted by the campaign is 3,588, 870, all under 5 years old. 
About supporting the campaign, Dr. Rasa'e, Health Deputy Minister said: "International organizations funded the campaign with US $1,291,000, EC Countries with US $567,915, and the Japanese government US $314,000. The WHO supported us with US $182,000, the UNICEF with US $120,000. The Diseases Monitoring Center in Atlanta supported us with US $90,000 and Exxon Co. with US $10,000. On the other hand, the Yemeni government supported the campaign with US $630,000. 
Nadwa Al-Dawsari, 
Yemen Times 
——
[archive-e:43-v:1998-y:1998-d:1998-10-26-p:./1998/iss43/health.htm]