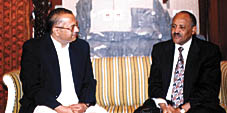 Eritrea's Foreign Minister in an Interview with Yemen Times "We have already started steps to implement the court verdict on Hunaish." [Archives:1998/42/Front Page]
Mr. Haile Weldensae, Minister of Foreign Affairs of the State of Eritrea, said that not only did his country accept the court verdict on Hunaish, issued on October 9th, but also that it had already started steps towards implementation. He was referring to the withdrawal of Eritrean troops from the islands, which will revert to Yemen, at the latest by 9th January, 1999. The minister repeatedly insisted that the Yemeni-Eritrea dispute was over.
In a clear reference to the on-going Eritrean-Ethiopian border conflict, Mr. Weldensae said that it should be resolved along the example of the Yemeni-Eritrean dispute.
"We are a nation that has suffered a lot because of violence and war. We are not interested in having further wars to resolve border disputes. We should all discuss our differences," he said.
He insisted his country does not have a border problem with Djibouti or the Sudan. He said his country is reaching out to its neighbors for the sake of regional peace and stability.
In response to a question about why his government was unwilling to take back its people who are stranded in the Sudan, the minister indicated that Eritrea was poor, following decades of a devastating war of independence.
"We have asked the UNHCR to make arrangements for the Eritrean refugees in Sudan. Without such arrangements, it is not possible to allow such a big population movement," he said. The minister estimated the number of Eritrean refugees in Sudan at 250,000.
In response to a question of whether Eritrea has allowed an Israeli base to be installed on one of the islands, the official brushed aside such reports. "This is absolutely false."
Minister Weldensae said that his country was trying to mobilize the people for nation-building and development. "We did it during the struggle for independence. We are now doing it again. We have mobilized our people – both inside the country and in the diaspora – to achieve rapid growth."Finally, he described Eritrea's relations with its Arab neighbors – notably Libya, Egypt and Saudi Arabia as exellent. Text of interview on Law & Diplomacy Page
——
[archive-e:42-v:1998-y:1998-d:1998-10-19-p:./1998/iss42/front.htm]