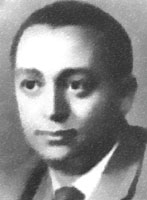 Faces and TracesMuhammad Ahmed Abdul-Wali(Pioneer of modern-realistic story-writing) [Archives:2007/1068/Culture]
Prepared by: Eyad N. Al-Samman
Faces & Traces is a cultural series of concise biographies of local or international famous and obscure personalities in fields such as literature, arts, culture and religion in which these individuals contribute affirmatively. It is a short journey in contemporary history, attempting to tackle numerous effective characters in human civilization.
Muhammad Ahmed Abdul-Wali (1939-1973) was a Yemeni storywriter, playwright, and novelist. His father was from Al-A'aboos in Ta'izz province and left for Aden, escaping the pursuit of the Imam who was chasing him due to his active role in a liberal movement that called for the overthrow of the Imamate in Yemen. His father emigrated to Ethiopia and settled down in Addis Ababa looking for resources that would ensure a better life for himself and his family. Muhammad Abdul-Wali was born on November 12, 1939 in Debre Birhan to an Ethiopian mother and spent his childhood in Addis Ababa. In 1946, at the age of six, Abdul-Wali visited Yemen briefly before returning to Ethiopia to join the Yemeni-Ethiopian Community School in Addis Ababa. He ventured once again to Yemen in 1954, married his first wife, at which time he returned to Addis Ababa. In 1955 after finishing his preparatory school in Ethiopia, Abdul-Wali departed to Egypt and joined Al-Maadi Standard Secondary School, after which he studied at Al-Azhar Institute.
In 1956, Abdul-Wali participated in establishing the first Yemeni Students Union in Cairo and was expelled from Egypt in 1959 because of belonging to left-wing and communist groups. He left Egypt for the former Soviet Union, where he spent two years at Gorky's Institute for Arts in Moscow. He returned to Yemen after the Yemeni revolution in 1962 and was appointed to several governmental positions, including general manager of Yemen Airlines Company, general manager of the Presidency Office, and charge d'affaires for Yemen's embassies in Moscow, Berlin, and Mogadishu. He eventually resigned from his governmental positions and established a publishing house in Ta'izz.
Abdul-Wali was imprisoned in 1968 for one year and in 1972 for 8 months because of his two stories \"Uncle Saleh Al-Amrani\"" and \""Pot's Wolf\"" which depict the trials of life in prison. After his second departure from prison