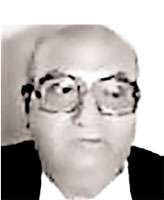 Faces & TracesAbdulrahman Badawi, one of the Arab world's prominent existential philosophers [Archives:2008/1180/Culture]
Prepared by: Eyad N. Al-Samman
Faces & Traces is a cultural series of concise biographies of local or international famous and obscure personalities in fields such as literature, arts, culture and religion in which these individuals contribute affirmatively. It is a short journey in contemporary history, attempting to tackle numerous effective characters in human civilization.
Egyptian philosopher, intellectual, historian, textualist and translator Abdulrahman Badawi was born into a wealthy family on Feb. 4, 1917, in Sharabas village in northern Egypt's Damietta governorate.
Badawi completed his primary education in 1929 and then graduated from Giza's Al-Sa'eedia School in 1934. That same year, he enrolled in the philosophy department at King Fuad I University (now Cairo University).
During his academic studies, Badawi went to Europe to study German and Italian languages, returning to Egypt in 1937 and eventually obtaining his degree in philosophy in 1938. After graduation, Badawi was appointed a lecturer in Cairo University's philosophy department, where he continued his postgraduate studies. He earned a master's degree in 1941, followed by a doctoral degree in philosophy in 1944 at age 27.
Also politically active, Badawi joined the Fascist Misr Al-Fatah (The Young Egypt) Party from 1938 to 1940, then becoming a member of the New National Party's high commission from 1944 to 1952.
Badawi continued working as a lecturer in 1945, later becoming assistant professor in the philosophy department in July 1949. He left Cairo University in September 1950 to establish and head up the philosophy department at Ain Shams University.
Between 1956 and 1958, he was a cultural counselor and manager of the educational community in Switzerland.
Following the outbreak of Egypt's 1952 revolution, which replaced the monarchy with a republic and issued the Agrarian Land Reform Law, Badawi's family lands were requisitioned for eventual distribution to the long-oppressed peasants.
In 1953, Badawi participated in drafting the Egyptian Constitution formed after the revolution. He had obvious reservations about the critical political and intelligence situations prevailing in Egypt during the 1950s and the early 1960s.
Badawi and his family's properties were placed in state custody in 1966, when he became a target for security detachments. Consequently, he moved to Libya to lecture at the University of Benghazi from 1967 to 1973, but was unexpectedly imprisoned following accusations of atheism and heterodoxy.
After his release, he moved to Paris, where he remained for nearly three decades, only returning to Egypt at the end of his life. During his voluntary exile from Egypt, Badawi was a visiting lecturer at several universities, including Lebanese universities (1947-1949), the Institute of Islamic Studies, the Sorbonne (1967), Tehran University (1973-1974) and the University of Kuwait (1974-1982).
Badawi is one of the 20th century's most prominent Arab existential philosophers. Discussing Badawi's doctoral thesis, Egyptian intellectual Taha Hussein said, "Today, we see the birth of the first Egyptian philosopher."
Fluent in several Indo-European languages, Badawi wrote more than 120 books on numerous issues. His first book, 1939's "Nietzsche," discussed the philosophy of German philosopher and classical philologist Friedrich Nietzsche, while his second book was 1940's "Greek Heritage in Islamic Civilization."
Among his philosophical works are "Humanism and Existentialism in Arabic Intellect" (1947), "Aristotle with Arabs" (1947), "The Existential Time" (1954), "The Philosophy of the Middle Ages" (1962), "The Problem of Death in Existential Philosophy" (1964), "Plato in Islam" (1973), "A New Introduction to Philosophy" (1979) and "Philosophy and Philosophers in Arab Civilization" (1993).
He further composed "The Encyclopedia of Philosophy" (1984), which was issued in three parts and coauthored with Zaki Mahmoud.
As a textualist, Badawi excelled in textual critiques of Islamic heritage, spending a major part of his life on it. Accordingly, the Sorbonne in Paris adopted some of his books to be taught to students thoroughly studying the philosophy of the Middle Ages.
However, Badawi's most renowned work was 1945's "The History of Atheism in Islam," in which he tackled the history of skeptics in Islamic history and the philosophy of atheism in Islam during the Abbasid period. A subsequent book on atheism followed in 1946, entitled, "Anxious Characters in Islam."
Badawi translated many books into Arabic, including French philosopher Jean-Paul Sartre's major philosophical work, "Being and Nothingness" (1943; trans. 1966), Spanish writer Miguel de Cervantes' "Don Quixote" (1615; trans. 1965) and German dramatist Bertolt Brecht's plays, "Drums in the Night" (1922; trans. 1977) and "Galileo" (1947; trans. 1977).
Badawi also penned several Islamic books in French, including "Defense du Coran Contre ses Critiques" (Defending the Qur'an Against its Critics, 1989), "Defense de la Vie du Proph'te Mohammed Contre ses Detracteurs" (Defending the Prophet Mohammed's Life Against his Detractors, 1990) and "Islam in the Viewpoint of Voltaire, Herder and Hegel."
Badawi's final work was his autobiography, published in two parts in 2000, entitled, "My Memoirs." In the book, he recounts in the form of a confession his former and perplexing relations and confrontations with numerous political and academic entities in Egypt.
In more recent years, Badawi was honored with the issuance of a 1997 book memorializing him by Egypt's Culture Palace, as well as receiving President Hosni Mubarak's 1999 Social Sciences Award.
Badawi died at age 85 in Cairo on July 25, 2002 during his last visit to Egypt. His prolific productions in philosophy and textual critiques of Arab-Islamic heritage are considered a substantial threshold every serious researcher should examine in order to profoundly understand the past and present of eternal Arab and Islamic civilizations.
——
[archive-e:1180-v:16-y:2008-d:2008-08-11-p:culture]