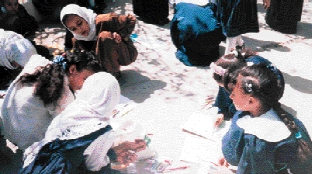 First Children National Conference [Archives:2001/24/Reportage]
For the first time in Yemen, the National Conference for Children was held on May 30, 2001 as a prelude to Yemen's participation in the UN children session scheduled for September.
The symposium adopted the theme 'Say Yes for Children'. A number of speeches were delivered on this theme.
The Prime Minister Abdul Qadir Bajamal reiterated the necessity of taking care of children. He said that is the government does not pay attention to children it is bound to fail.
Mr. Bajamal said that Yemen has signed a of agreements on issues related to children's welfare. He added that today's are tomorrow's citizens.They should learn our Islamic values and norms for a healthy life.
The Minister of Labor and Social Affairs talked about the steps taken to combat polio and other fatal diseases besides implementation of preventive vaccinations drives throughout Yemen since the 90s.
The event also included a speech by Mr. Leo De Vos, UNICEF representative to Yemen who highlighted the Convention on the Rights of the Child as the most widely and most quickly embraced human rights treaty as well as the world wide commitment to children's rights.
——
[archive-e:24-v:2001-y:2001-d:2001-06-11-p:./2001/iss24/report.htm]