First Festival for Yemeni Orphans [Archives:1998/37/Culture]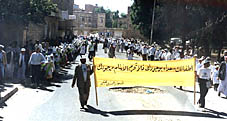 Organized by the Islah Charitable Society (ICS), the first festival for orphans was held during the period September 8-10. The event was attended by President Ali Abdullah Saleh; the Speaker of Parliament, Sheikh Abdullah Bin Hussain Al-Ahmar; the Prime Minister, Dr. Abdulkarim Al-Iryani; several ministers; members of the Consultative Council and representatives of some charitable societies in the Gulf countries and other states.  
The ICS supports many charitable activities and causes. One of them is the support of orphans in Yemen. The "speech of the orphan" was followed by an emotion-rousing scene sketching the tragedy of orphans. It stirred the feelings of the audience.
According to its Secretary-General, Dr. Hameed Zyad, the ICS sponsors 7,000 orphans all over the country as shown in the table. In the past the number was only 300. "We give each orphan YR 1,500 a month and the rest of the 2,500 riyals allocated for him/her is spent on his/her study and health care. The society is not affiliated with any political party."
In his speech, President Saleh urged the government to establish special homes for orphans. He also said that the government sponsored 25,000 orphans in 1998 and will sponsor 25,000 in the rest of the year, indicating that the cost was YR 1 billion. He also expressed the readiness of the government to support all charitable societies in order to help the needy. President Saleh also said the presidency will sponsor 3,000 orphans, the government 3,000 and urged the commercial chambers to sponsor 5,000. Some people in the audience will also sponsor 4,000 orphans. The ICS also sponsored the communal wedding of 2,000 brides and bridegrooms in Taiz.
By: Mohammed Hatem Al-Qadhi
Assistant Managing Editor
Yemen Times
——
[archive-e:37-v:1998-y:1998-d:1998-09-14-p:./1998/iss37/culture.htm]