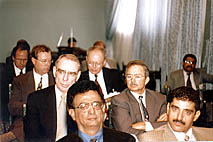 First Oil & Gas Conference: BIG BANG; NO SUBSTANCE YET [Archives:1998/40/Business & Economy]
The First Oil & Gas Conference – held in Sanaa during September 28-30 – is over. An important event in the business life of Yemen, some 300 delegates attended, notably representatives from oil and gas companies from all over the world. Unfortunately, however, the level of representation was not senior enough – with Canadian Occidental Petroleum, sending the highest representation – the company's vice president.
The conference – like an academic exercise – was crammed with lots of subjects on Yemen – energy policy; political, economic and investment climate; geology and its main basins; privatization and economic reform program; strategies for financing gas, oil and related industrial exploration, production, transportation and storage; petrochemical and refining projects and several other topics.
Beyond the plethora of people, some companies made a presence in the conference. Canadian Oxxy was already mentioned as the highest representation. As the largest producer of oil in Yemen today, and the company that has just concluded concessions for four new blocks, Canadian Occidental Yemen is gearing up for new business in the country. "We are quite optimistic," said Dr. Waleed Jazrawy, President and General Manager of the company.
Exxon's team was also quite visible. Consolidated Contractors International Company, CCC, made its mark at the conference. The company reviewed its achievements in Yemen as well as the Arab world through an impressive exhibition. Hani Shehadeh, Regional Manager of CCC, was at hand to share the company's experience in Yemen – spanning five decades. Mr. Shehadeh also spoke about the company's future plans.
"Our company is now the largest engineering and construction company in the Middle East. With over 40,000 employees composed of more than 60 nationalities, the company figures in all listings of large and profitable companies, worldwide."
Many observers feel that the conference's success will be measured by the real outcome in new business – not just in the media bang. So far, little has been concluded, although some new companies did come to test the waters.
——
[archive-e:40-v:1998-y:1998-d:1998-10-05-p:./1998/iss40/b&e.htm]