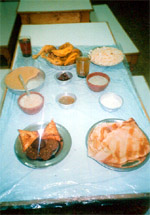 Food During Ramadhan [Archives:2001/49/Culture]
Saleh Abdulbaqi
Yemen Times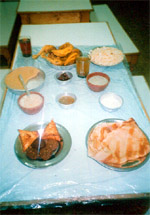 Ramadhan always has a spiritual impact on all Arab and Muslim societies. Yemen is one of these societies which has traditional religious, cultural and social aspects of Ramadhan. Some of these aspects, especially the religious, may greatly match those in other Muslim countries, but it still contains its own flavor, especially in other aspects.
A few minutes before iftar, people rush from here to there. Markets are very crowded at this particular time and become more crowded as the time of iftar approaches. Among the goods purchased at this time are sweets, dates, breads and loaves. Women carrying loaves on their heads while wearing their traditional dresses form a very beautiful picture.
By this time, housewives should have completed preparing the iftar and dinner. These include saltah, maloj, shafot, dates, coffee, rice, chicken, etc.
Some families, especially those in the southern parts of the Republic, break their fast by having some dates, coffee and shafot. Then they pray the al-maghreb prayer and return for dinner.
Meanwhile, a segment of people go to restaurants. Traditional restaurants are always crowded and noisy, and many like it just this way. "We always try, especially in Ramadhan, to satisfy all tastes," said Mohammed al-Sheibani, owner of a restaurant. He added: "We serve soup, aseed, dates and coffee for those who want to catch the al-maghreb prayers. Others prefer to have iftar and dinner at the same time."
In mosques, iftar meals are often organized by charitable societies. In the countryside, worshippers bring their iftar with them. They make a big group and combine what they have brought to make a big meal, and then they all eat and drink together.
It is something overwhelming to see great numbers of people, rich and poor and old and young, getting together to eat and drink. All hearts are united, and it is the mosque that is still able to unite people.
——
[archive-e:49-v:2001-y:2001-d:2001-12-03-p:./2001/iss49/culture.htm]