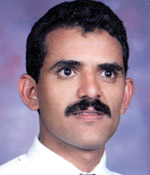 Freedom of Press Wins Al-Zaidi Released [Archives:2001/26/Front Page]
YT journalist, Hassan al-Zaidi was released yesterday after 16 days of illegal confinement. al-Zaidi was locked in an underground cell in the Political Security Office, and had been subjected to terrible pressures. Al-Zaidi was set free after YT sent two memos to the PSO requesting his immediate release. 
He added: "We are still of the view that the suit and the verdict were illegal. However, we have already honored the verdict and do still cling to our position." The Human Rights Watch condemned in a press release issued on June 20, the Yemeni government's announced intention to close down the weekly Al-Shoura newspaper. It also expressed grave concern in relation to the flogging sentence against Abduljabbar, convicted on defamation charges. "Charges of defamation are being used on a regular basis to silence journalists and close down newspapers," said Hanny Megally, Executive Director of the Middle East and North Africa division of Human Rights Watch. 
"Press Freedom in Yemen has deteriorated since end of the civil war in 1994. Ten papers were brought to court during 2000; some of them periodically suspended and the journalists fined. Yemen Times journalist Hassan Al-Zaidi remains detained in an undisclosed location after the Political Security Office, an agency directly reporting to the President, arrested him on June 10, 2000. In late May, Al-Shumu, a weekly, was banned for one month and chief editor Saif al-Hadheri sentenced to six months imprisonment and the payment of damages after the Sana'a Appeals Court had convicted him of defaming the former Minister of Education by accusing him of embezzlement and corruption," the release said. 
YT has also sent two memos to Mr. Mahboob Ali, Yemeni journalists chairman, requesting the syndicate quick intervention to secure his release. However, the syndicate did not take any measures for that end. Furthermore, it refused to issue a condemnation report under the pretext that his arrest was due to some tribal issues which is not true. The syndicate did this despite the fact that though al-Zaidi is a working member in the syndicate and possesses the local, Arab and international membership.
——
[archive-e:26-v:2001-y:2001-d:2001-06-25-p:./2001/iss26/front.htm]